Now showing "To Catch a Thief" - We restored this movie using our unique solution, RINNUVA and converted this aging classic into a fun "Comic Book Picture" using our STILIZA process"The full length feature films are available in Rinnuva or Stiliza versions
To Catch a Thief
STILIZA VERSION
Cary Grant as John Robie ("The Cat")
Grace Kelly as Frances Stevens
Jessie Royce Landis as Jessie Stevens
John Williams as H. H. Hughson
Charles Vanel as Monsieur Bertani
Brigitte Auber as Danielle Foussard
Jean Martinelli as Foussard, Danielle's father
Georgette Anys as Germaine, housekeeper
René Blancard as Commissaire Lepic (uncredited)
Paul Newlan as Vegetable Man in Kitchen (uncredited)
To Catch a Thief is a 1955 American romantic thriller film directed by Alfred Hitchcock, from a screenplay by John Michael Hayes based on the 1952 novel of the same name by David Dodge. The film stars Cary Grant as a retired cat burglar who has to save his reformed reputation by catching an impostor preying on the wealthy tourists of the French Riviera. Grace Kelly stars opposite him as his romantic interest in her final film with Hitchcock.
Plot
Retired jewel thief John "The Cat" Robie is suspected by the police in a string of burglaries on the French Riviera. When they come to his hilltop villa to question him, he slips their grasp and heads to a restaurant owned by his friend Bertani. The restaurant's staff are members of Robie's old gang, who have been paroled for their work in the French Resistance during World War II. They are angry at Robie because they are all under suspicion as long as the new Cat is active. When the police arrive at the restaurant looking for Robie, Foussard's daughter spirits him to safety; Danielle is a young woman who fancies him dearly.
Robie realizes he can prove his innocence by catching the new Cat in the act. He enlists the aid of an insurance man, H. H. Hughson, who reluctantly discloses a list of the most expensive jewelry owners currently on the Riviera. American tourists Jessie Stevens, a wealthy nouveau riche widow, and her daughter Frances, top the list. Robie strikes up a friendship with them. Frances feigns modesty at first, but kisses Robie at the end of the night before retiring to her room.
The day after, Frances invites Robie to a swim at the beach, where Robie runs into Danielle. He keeps up his cover of being a wealthy American tourist, despite Danielle's jealous barbs about his interest in Frances. Frances accompanies Robie on a "picnic" to a villa where Robie suspects the new Cat might break in. Frances reveals that she knows Robie's real identity. He initially denies it, but concedes it that evening when she has invited him to her room to watch a fireworks display. They kiss passionately.
The next morning, Jessie discovers her jewels are gone. Frances accuses Robie of using her as a distraction so he could steal her mother's jewelry. The police are called, but by the time they reach Jessie's room, Robie has disappeared.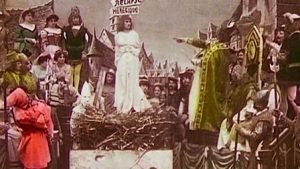 In the village of Domrémy, the young Joan is visited by Saint Michael, Saint Catherine, and Saint Margaret, who exhort her to fight for her country. Her father Jacques d'Arc, mother Isabelle Romée, and uncle beg her to stay at home, but she leaves them and travels to Vaucouleurs, where she meets with the governor, Captain Robert de Baudricourt. The dissipated Baudricourt initially scorns Joan's ideals, but her zeal eventually wins him over, and he gives her authority to lead French soldiers. Joan and her army lead a triumphal procession into Orléans, followed by a large crowd. Then, in Reims Cathedral, Charles VII is crowned King of France.
Watch Now ➜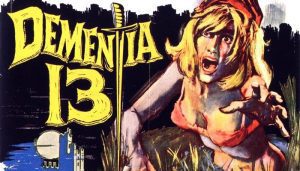 While out rowing in the middle of a lake after dark, John Haloran and his young wife Louise argue about his rich mother's will. Louise is upset that everything is currently designated to go to charity in the name of a mysterious "Kathleen." The argument, combined with the exertion of rowing the boat, causes John to have a heart attack. He informs Louise that, should he die before his mother, Louise will receive none of the inheritance, after which he promptly dies. Thinking quickly, the scheming Louise dumps his fresh corpse over the boat's side, where it sinks to the bottom of the lake. Her plan is to pretend that he is still alive so that she can ingratiate her way into the will. She types up a letter to her mother-in-law, Lady Haloran, inviting herself to the family's castle in Ireland while her husband is "away on business."
Watch Now ➜
After killing a man in self-defense, a young woman is blackmailed by a witness to the killing.
On 26 April 1929, Scotland Yard Detective Frank Webber escorts his girlfriend Alice White to a tea house. They have an argument and Frank storms out. While reconsidering his action, he sees Alice leave with Mr. Crewe, an artist she had earlier agreed to meet.
Watch Now ➜