There's something about summer that just says "Aahhhhh". Mornings spent on the deck eating breakfast, barefoot afternoon romps through a newly mowed lawn and don't forget those warm, breezy evenings spent by the water.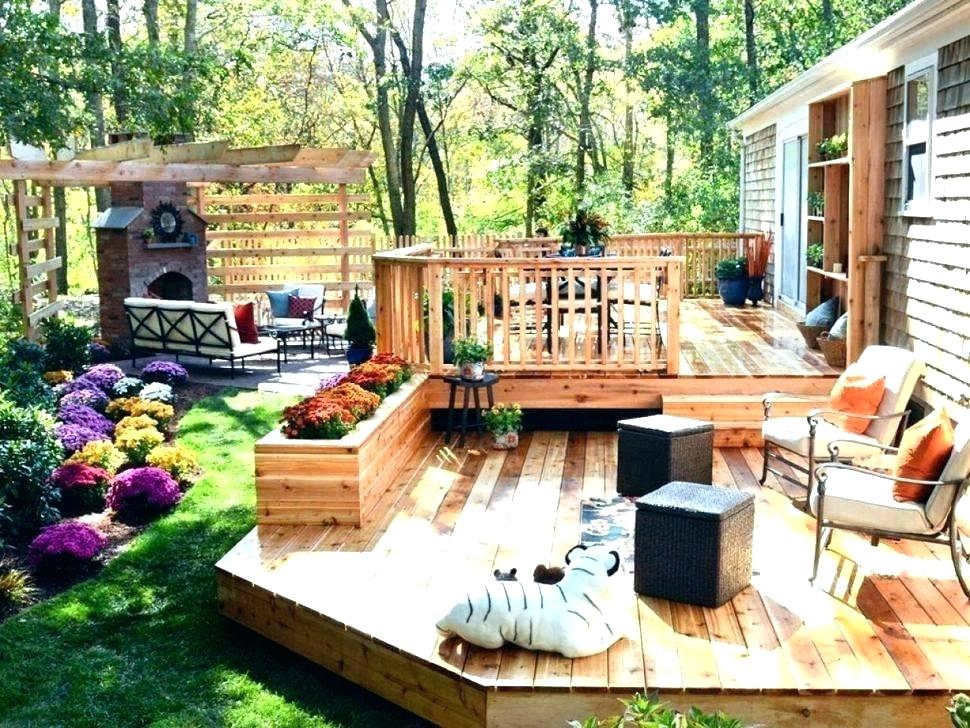 Yes! Summer is finally here to greet us; sandy toes and all!
With the changing of the seasons also comes the changing of home décor! Whether you're the type who likes to move entire furniture pieces out for certain seasons or simply hang up that large BEACH sign that's been waiting in your basement all winter long…it's time to make your home SPEAK summer the way we feel it: laid back and relaxed.
From tropical to nautical, we have a plethora of ideas to make sure your home décor speaks summer-for all 93 sandal-loving days.
The Spring to Summer Switch-A-Roo
For many of us, the step from spring inspired designs to summer décor isn't such a tremendous leap. In fact, many of springs floral accents can be used as backdrops for your summer décor. Have a forsythia wreath adorning that front porch? No need to hide it away until next March or April. Add a few tropical looking hibiscus flowers or sunflowers to that very same wreath, complete with a new ribbon and you've got yourself your exterior or interior summer wreath!
Ever wonder what to with those baskets leftover from your spring décor? Incorporate a little Fourth of July flare by adding miniature flags to the baskets. Try hanging these baskets in a variety of places in your home to create a Fourth of July theme inside your space.
No Nonsense Nautical—Bringing the Beach to Your Home
Longing to be beachside but don't own an oceanfront property quite yet? Not to worry! Bringing the beach home can be just as fun! Here are a few easy ways to make your home feel like the ocean is in your backyard:
> Switch out ordinary couch pillows to with beach-inspired pillows adorned with seashells, starfish or beach-lingo
> Create a beach-inspired wreath using a grapevine wreath, simply spray paint it a nautical blue and attach seashells, rope or any other beach-side trinkets to fill in gaps!
> Change up your dinner table scene or favorite shelves in your kitchen for beach-inspired ones that you can display on shelves throughout your kitchen
> Create or buy beach-inspired frames, place your favorite pictures of beach destinations in and around your home.
> Antique stores are full of hidden gems. Find a paddle from a boat, old rope lanterns from a ship, beach signs, old surfboards, or other treasures for a STEAL to hang in your home!
Paintings and even pictures can be an additional way to ring in the new season! Grab some nautical themed pictures from your favorite beachside art studio or grab some paints and throw your own painting up on the wall! Not an artist? Take a tip or two from Pinterest for some ideas and go to town! After all, it's your space surround yourself with what inspires you!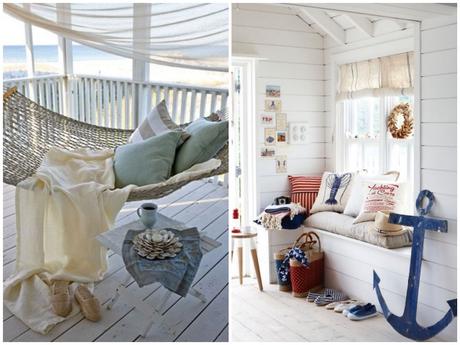 For those of you who like to fully redesign your space as the seasons pass, here are some bold ways to really enhance that nautical theme:
> Paint a focal wall with wide nautical stripes: nothing screams beachside like bold blue and white stripes!
> Switch out darker furniture for airy, light pieces. Have a dark wood table? Switch it out for a smaller white, rustic piece. Bring in chairs in varying shades of light greens and light blues to give it that true laid back feel.
> White not quite your color choice for furniture switches? Not to worry! Varying shades of teals, light greens, blues, tans and taupe all coordinate well and give a light, carefree, summery appeal to any space.
> Change out older area rugs for lighter ones either braided or made out of jute to give your home a lighter feel.
> Changing out light fixtures to embody your summery feel can refresh a tired space in an amazing way. Change out flush light fixtures for nautical looking hanging lights or glass holders. Pinterest has some great ideas for this décor!
All of our décor suggestions can be implemented both inside and outside of your home- don't forget summer living is outside living! Expand your theme onto your deck, front porch and pool side!
Summer Redesign with Holidays in Mind: From Memorial Day to Labor Day-We have you Covered:
Nautical inspirations aren't the only way to celebrate summer! Patriotic décor is easily incorporated into any home and, better yet, it lasts all the way up until Labor Day. Here are some ways to liven up your decor from the first bloom to the last.
> Take a wreath in your home and transform it into a symbol of patriotism using small, American flags made out of jute (not the plastic ones). Add a wooden sign at the base of the wreath and you have an adorable seasonal centerpiece for the next three months!
> Red, White and Blue pillow accents in your living spaces will liven up any bland space.
> Pictures of Patriotic places, documents or sayings can easily be placed into frames in exchange for older non-seasonal décor.
> Antique shop till you drop! Finding old American Flags or vintage stars and stripes décor from plates to paintings won't be challenging in your local antique shop.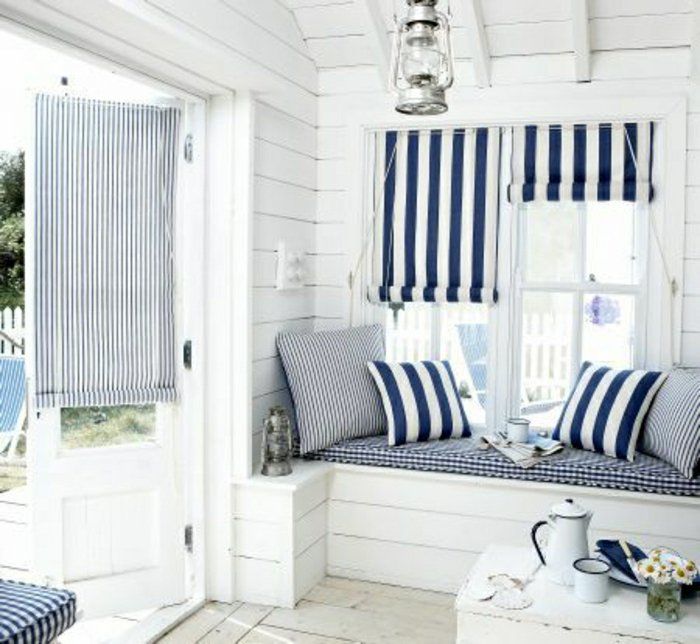 > Need more stars and stripes? Taking an old crate and painting it with red and white stripes and stars is an easy way to DIY your own flag décor! Perfect for a corner or front porch décor!
> Hang vintage American Flag buntings to your outside décor. Decorate the front porch and swing it all around to the back deck as well!
> Visit some patriotic sites during your travels in summers past? Get creative and display these memorable moments in frames around your home!
Patriotic and Americana themed décor can be as eccentric (painting that old table in a stars and stripes motif) or subtle as you would like. Holiday themed décor such as this is easily accessible and can be expanded upon from year to year!
Getting that Tropical Feel
Searching for a tropical feel for your summer décor? Try adding your very own hibiscus plants to your interior and exterior space to bring in color and a paradise feel. Switch out heavy-looking wooden furniture for wicker-based creations complete with palm tree cushions and pillows. Colors here include bold shades of greens, blues, coral tones as well as browns and reds.
Paintings and pictures with a tropical theme could incorporate floral designs as well as other island landscapes. Tropical themed décor can take on a beachy feel as well, so don't feel that you have to separate them entirely. Island and tropical décor can include beachy and ocean feels but to keep your tropical theme constant, choose one or two focal points and carry them consistently through your home (such as palm trees or flip flops).
Whether your summer-inspired décor is nautical or tropical, if you're simply adding small accent pieces or taking on an entire season re-haul of your space; summer has given us many choices for décor that will leave you saying "Aaaah" each time you walk through your front door. Cheers to summer!