Presenting "CHARADE" - We restored this movie using our unique solution, RINNUVA and converted this aging classic into a fun "Comic Book Picture" using our STILIZA process"The full length feature films are available in Rinnuva or Stiliza versions
Based on "The Unsuspecting Wife" 1961 short story by Peter Stone
Cary Grant
Audrey Hepburn
Walter Matthau
James Coburn
George Kennedy
Jacques Marin
Ned Glass
Dominique Minot
Paul Bonifas
Thomas Chelimsky
Charade is a 1963 American romantic thriller and suspense set in Paris as a woman is pursued by several men who want a fortune her murdered husband had stolen. Whom can she trust?
Plot
While on holiday in the French Alps, Regina "Reggie" Lampert, an expatriate American working as a simultaneous interpreter, tells friend Sylvie that she is divorcing her husband, Charles. She also meets Peter Joshua, a charming American.
On her return to Paris, she finds her apartment stripped bare. A police inspector says Charles sold off their belongings, then was murdered while leaving Paris. Their money is also missing. Reggie is given her husband's small travel bag, containing a letter addressed to her, a ship ticket to Venezuela, four passports in multiple names and nationalities, and other miscellaneous personal items. At Charles' sparsely attended funeral, three men show up to view the body. One sticks a pin into the corpse to confirm Charles is really dead.
Reggie is summoned to meet CIA administrator Hamilton Bartholomew at the American Embassy. She learns that the three men are Herman Scobie, Leopold W. Gideon, and Tex Panthollow. During World War II, they, Charles, and Carson Dyle were assigned by the OSS to deliver $250,000 ($3.8 million in current dollar terms) in gold to the French Resistance, but instead stole it. Carson was fatally wounded in a German ambush, and Charles double-crossed the others, taking all the gold. The three survivors are after the missing money, as is the U.S. government. Hamilton insists Reggie has it, even if she does not know what or where it is—and that she is in great danger.
Peter locates Reggie and helps her move into a hotel. The three criminals separately threaten her, each convinced she knows where the money is. Herman then shocks her, claiming that Peter is in league with them, after which Peter confesses he is Carson Dyle's brother, Alexander, and is trying to bring the others to justice, believing they killed Carson.
As the hunt for the money continues, Herman and Leopold are murdered. Hamilton tells Reggie that Carson Dyle had no brother. When she confronts Peter, he claims he is Adam Canfield, a professional thief. Although frustrated by his dishonesty, Reggie still trusts him.
Reggie and Adam go to an outdoor market where Charles' last known appointment was. Spotting Tex, Adam follows him. At the stamp-selling booths, Adam and Tex each realize that Charles bought some extremely valuable stamps and affixed them to the envelope found in his travel bag. Both men race back to Reggie's hotel room, only to discover the stamps missing from the envelope. Reggie, who gave the stamps to Sylvie's young son, Jean-Louis, suddenly realizes their significance. She and Sylvie locate Jean-Louis, but he has already traded the stamps to a dealer. They find the dealer, who says the rare stamps are worth $250,000 in total. He returns them to Reggie
.
In 1838, Thomas Hutter lives in the fictional German town of Wisborg.His employer, estate agent Herr Knock, sends Hutter to Transylvania to visit a new client named Count Orlok who plans to buy a house in Wisborg. Hutter entrusts his wife Ellen to his good friend Harding and Harding's sister Annie before embarking on his journey. Nearing his destination in the Carpathian Mountains, Hutter stops at an inn for dinner. The locals become frightened by the mere mention of Orlok's name and discourage him from traveling to his castle at night, warning of a werewolf on the prowl.
Watch Now ➜
The Wolf Man tries to warn a dimwitted porter that Dracula wants his brain for Frankenstein monster's body.
Larry Talbot makes an urgent phone call to a railway station, where Chick Young and Wilbur Grey work as baggage clerks. Talbot tries to warn Wilbur of a shipment due to arrive for "McDougal's House Of Horrors". However, before he finishes, the moon rises and Talbot transforms into a werewolf, causing Wilbur to think the call is a prank. Meanwhile, McDougal demands the crates be personally delivered to his wax museum.
Watch Now ➜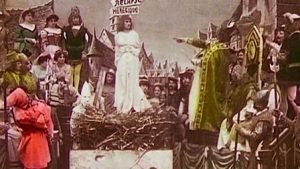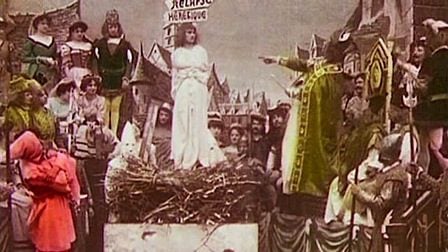 In the village of Domrémy, the young Joan is visited by Saint Michael, Saint Catherine, and Saint Margaret, who exhort her to fight for her country. Her father Jacques d'Arc, mother Isabelle Romée, and uncle beg her to stay at home, but she leaves them and travels to Vaucouleurs, where she meets with the governor, Captain Robert de Baudricourt. The dissipated Baudricourt initially scorns Joan's ideals, but her zeal eventually wins him over, and he gives her authority to lead French soldiers. Joan and her army lead a triumphal procession into Orléans, followed by a large crowd. Then, in Reims Cathedral, Charles VII is crowned King of France.
Watch Now ➜