By Danni Holland-Ingram
Summer is the perfect time to "turn up the heat" and make a fashion statement and a great thing is, you don't have to seek for the latest trends just to look fashionable this summer. Vintage style is one of the iconic looks can always go for if you're aiming for a timeless and trend-proof look.
"Vintage" is a French word traditionally used for wines older than 20 years. As wine gets better with age, vintage style remains timeless and iconic. In fact, you would be surprised that most contemporary fashion is a reinterpretation of styles from the past, where a lot of modern designers draw inspiration from. However, vintage fashion is not just a year on the brand, but the design of the past and style history. If you wish to get the vintage look this summer, yet you're afraid to look like coming from another era, keep on reading for our creative styling and fashion tricks that will make your looks street style-worthy.
Incorporate vintage accessories to your outfit.
If you wish to wear the vintage style, yet you're concerned you may overdo it a bit and accidentally look as if you took a nose dive into your grandmother's closet, starting small by incorporating vintage accessories into your outfit is a great start. Designed between 1920s and 1990s, vintage accessories add some flair to your simple outfit, therefore making it look more creative and unique. Generally, vintage accessories are the ones with the priceless value due to their limited and handmade styles that preserved the history.
This summer, complete your style with a pair of vintage sandals or a chic hat that will keep you effortlessly cool. Also, think of retro sunglasses, amulets, vintage necklaces, gold bangles, chandelier earrings, handmade bags, vintage scarves, floppy hats, woven purses, vintage clutches, crisscross sandals, corked-bottom espadrilles and such that will add some personality to your summer looks.
Embrace vintage silhouettes that will work for you.
Vintage fashion is all about the timeless and modest style. So, when choosing for your vintage look, body-hugging dresses, sheer tops, and miniskirts are definitely out of the equation. Instead, look for more conservative yet fashionable styles like puff-sleeved blouses, pussy bow tops, accordion skirts, high-neck blouse, tea dresses, and even button-front midi skirts. Vintage dresses are known for their exceptional fabrics and tailoring since most of them were made by hand. So, keep an eye for intricate details, creative designs, and unique tailoring as most designers in the past devoted love and consideration in making them.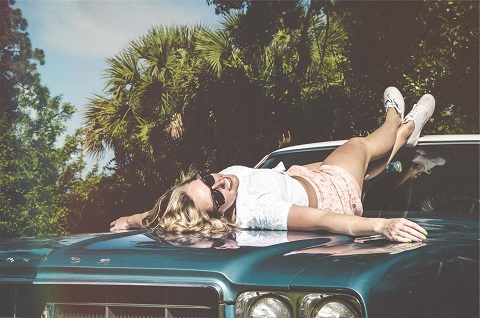 Add some personality with vintage prints.
Earthy palettes like rust, orange, brown, camel, red-orange, mustard, and such can be the best shades for the vintage look, but nothing beats the vintage prints that will add some dimension to your outfits. This summer, fun prints are everywhere, and vintage prints look trendy, hip, and fashion-forward. So, think of gingham patterns, polka dots, retro floral prints, chevron, checks, plaids, tartan, baroque-inspired prints, houndstooth patterns, animal prints and such that can channel an iconic look. Just steer clear from quirky, novelty, and eccentric prints that will only take the vintage touch away from you. This way, you'll make your vintage-inspired style more expressive and intentional while showing your appreciation for the historic decades of the past.
Pick vintage ensembles that look like current trends.
To avoid a costume-y look, pick vintage ensembles that look like current trends. Remember, vintage fashion is iconic yet when well done, it has a modern and contemporary twist to it. Think of fashion trends that are making a comeback so you will have some inspirations to draw from. Button-front skirts, chunky heeled shoes, platform sandals, bell sleeved tops, hobo bags, shift dresses, peasant tops, espadrilles, lug sole footwear and such may seem trendy and new, but they're actually some of the styles from the past that are making a comeback. Indeed, you can be creative on styling your vintage pieces to give you a trendy and hip look.
Era Mixing
You have the option to wear the vintage look head-to-toe, but it requires a bold confidence to rock it stylishly. Mixing vintage pieces from different eras will give you a fashion-forward style even if you wish to wear them head-to-toe. In fact, there is a huge selection of clothes and accessories to pick from the 'vintage' category. Surprising combinations of different patterns, unexpected pops of color, creative combinations of textiles and silhouettes can make an outfit unique, modern, and trendy. When investing for vintage items, you may consider mixing up your wardrobe with a wide variety of clothing periods.
Style your vintage ensembles modernly.
The ways of styling your vintage ensembles are endless, so feel free to experiment and showoff your artistic skills. Wearing your vintage pieces with modern ensembles can be a great way to dramatically ground an otherwise whimsical garment. While vintage ensembles are known for its breezy silhouette, airy fabrics, and loose shapes, you can balance them with modern pieces featuring boxy silhouetted, structured fabrics, and form-fitting shapes that can give you an artistic style. Whether you wish to wear a peasant blouse, or a Peter Pan collared dress, always wear them with modern pieces.
You may also incorporate modern accessories like structured bags, stiletto shoes, ear cuffs, oversized sunglasses, metallic clutches, and even trendy scarves that will dress up your vintage outfits. In fact, you can standout during the summer by wearing bold colored accessories as well as metallic hues. Or, think of layering your vintage pieces with some of your modern ensembles just to recreate a creative outfit while keeping its vintage feel.
Think of chic, vintage ensembles when dressing for the office.
Vintage clothes, especially dresses, blouses, and skirts are usually modest and feminine, making them perfect for a conservative environment, especially offices. If you're working in a creative workplace, vintage pieces like puff sleeved dresses, drop-waist dresses, pussy bow blouses, high-neck tops, accordion skirts, and midi skirts may be acceptable on your office dress codes. In fact, they're a lot safer to wear to work over modern ensembles like corset tops, fitted tank tops, sheer blouses, form-fitting skirts, little black dresses and such.
Instead of resorting to a classic button-down shirt teamed with your straight-leg pants or pencil skirt appropriate for the office, think of trading it with a pussy bow blouse, puff sleeved top, or even a chic peasant top that will make your looks fashion-forward. This way, you'll make the vintage style not only a part of your fashion statement, but also a way to make a great impression at work by showing your creativity without bending the rules.
Wearing vintage is a great way to express your own creativity, while helping the environment to conserve resources. All you need this season is a great sense of style and courage to look unique and one of a kind. A perfect means to add a little twist to your style, vintage fashion will indeed make your looks standout this summer.
Source: Forcoolfashion.com