One of the most amazing things that can happen to a family is the addition of a baby—even if you're just an aunt, uncle, or grandparent. There's something precious about having a brand-new bundle of joy to rock to sleep, sing to, and watch grow into their own personality, but there's a decent amount of preparation that happens to sufficiently prepare for the arrival if you're the parent. A name should be picked, clothes should be bought, diapers should be waiting…
And the nursery should be ready to move in the latest member of the family!
There are plenty of themes and concepts that can be applied to that nursery to make for a lively, beautiful room for baby to grow in. Disney Princesses, Mickey Mouse, and general zoo animals are ideas you might want to go with in regard to picking that perfect theme, but if you feel like those are too cliché, you can try for something more out-of-the-box.
Need help with that notion? Here is a list of possibilities you might want to consider should you choose to go with something less standard than the popular themes for your nursery!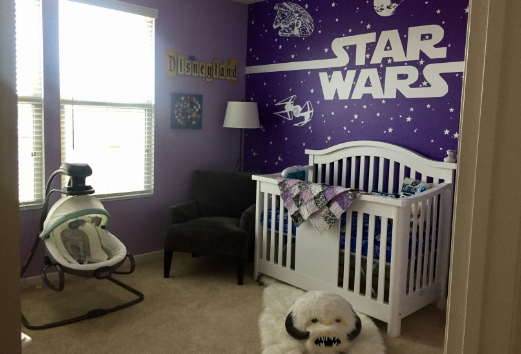 Star Wars . Face it. Sci Fi/Fantasy fans are out there, and we don't show signs of going away! In fact, the love of this type of film can be treated as a family tradition. And, yes, I'm a part of that kind of family! We watch Star Wars , and we give the newer generation the opportunity to love it just as much. If you, too, plan to pass on a Star Wars torch to your children, building a nursery based on that theme is a valid idea!
To achieve it, you can buy wall decals that represent the Death Star and the Jedi Code, or a decal that incorporates the name of your child in Jedi fashion. Add glow in the dark stars to your walls as well since it's a space theme, and rely on a spacey-blue color for your paint to bring that galaxy feel home.
You might have to buy the material to make the bedding, though there are a number of Star Wars fabrics to choose from, and don't neglect the little touches, like a stuffed Millennium Falcon. To wrap it all up, a Death Star lamp, colorful renderings of Star Wars characters in pictures, star-covered curtains, and a copy of Goodnight Darth Vader for a bedtime story will make for a wonderful Star Wars world for baby to come home to.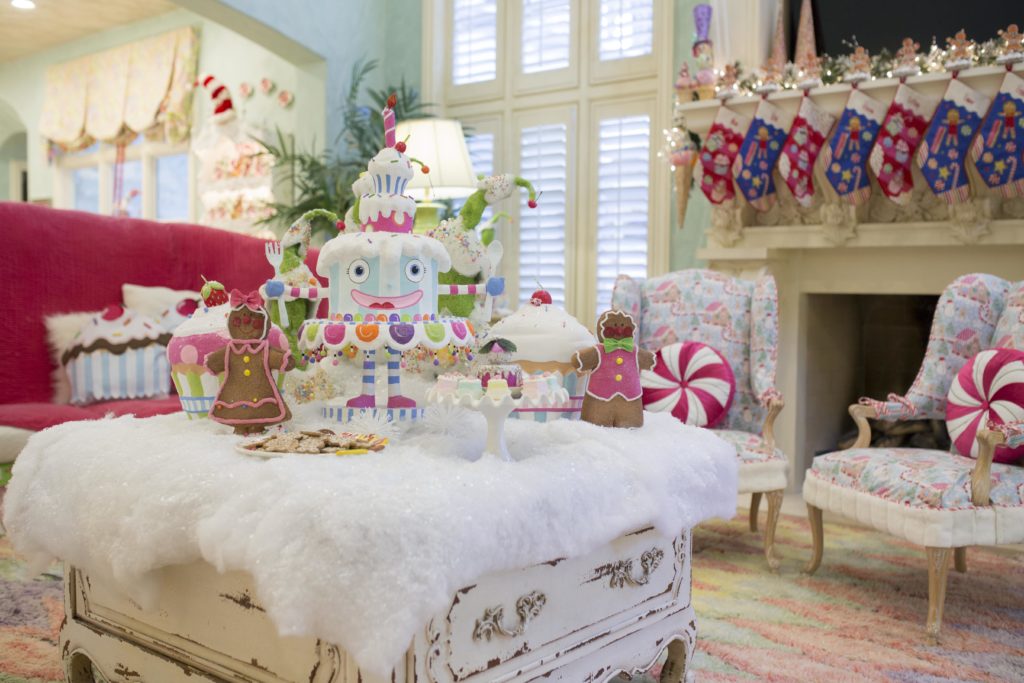 Candy Land . There's a good chance that, as your child grows, they'll experience the colorful world of Candy Land in its board game greatness, but before they do, you can use the game's theme to create a room for baby to thrive in.
For this theme, you can buy a candy-covered area rug to go in front of the crib, wall decals that are candy-shaped (get a variety of types if you can!), and wall scenes like a candy castle or gingerbread house to bring a large-scale candy image to the room. If you have high shelves in the nursery, cover them with jars that are filled with trinkets that look like candy. In addition, pick the perfect candy fabric for that bedding, and you can use candy Christmas ornaments to hang from the high shelves and curtain rods to add another dimension of candy to the theme.
Be sure to use stand-out colors on your wall as well—like a powder blue or lavender—to bring that vivid color that was a part of the board game to the nursery. You can also buy cardboard cutouts that represent different types of stands—like a donut or candy stand—and fill those with toy representations of the listed food. And for things that the baby can play with early on, don't neglect the options of plush representations of candy—like an M&M, Tootsie Roll, or candy corn. These little accents can bring that Candy Land theme to life!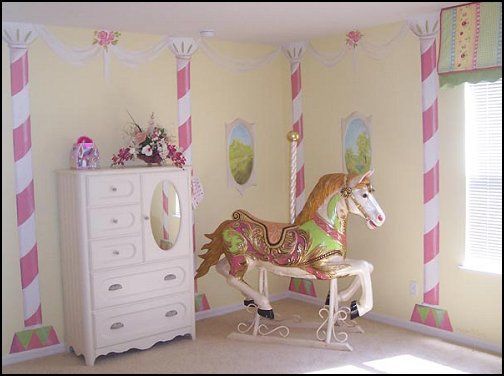 Carousel. There's something majestic, but childlike, about a carousel, and you can reflect that interesting pairing in baby's nursery fairly easily. There are plenty of wall decals that are carousel-based to go directly above baby's crib, and there's also the option of getting a carousel measuring guide to keep track of how much your little one grows. A number of carousel figurines exist to decorate those areas that are too high for baby to reach, and for areas that are lower, plush carousel figures are available.
Don't forget to pick the right wall décor as well, like posters of carnival horses and tissue pom poms to add in those dramatic splashes of color that a carousel can include. Mix some glitter in with the room's paint to provide the carousel's known sparkle and shimmer, and choose curtains rods that reflect that twisted, golden look of the carousel's poles. Hang some fairy lights around safe areas that baby can't get to in order to represent the twinkling of carousel lights, and have a brightly colored rocking horse in the corner for when baby gets big enough to play with it. Altogether, you could have an easy-to-identify carousel theme.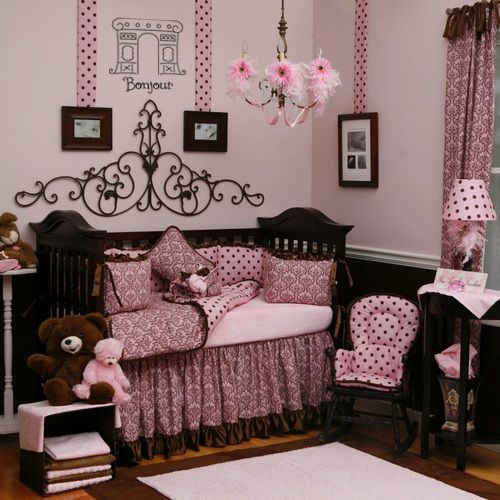 Paris. If you want to go a little more sophisticated, you might think of choosing an elegant city, like Paris, and using it as the theme for baby's nursery. Through Amazon, you can purchase an Eiffel Tower wall decal set that has a childish pink coloring to it, one that would look lovely above a baby's crib and would pair nicely with a series of Paris plaques that represent that same childish color theme (yes, these exist on Amazon as well!). Paris curtains, a Paris hamper, a Paris rug, and a Paris changing pad can all be purchased for baby's nursery, so while it's a lesser known theme, it isn't completely unknown . As it happens, Sweet Jojo Designs offers a set of Paris-themed nursery details, like bedding options, already designed to showcase the theme.
In addition to these easy-to-buy-options for an atypical nursery, think about adding little touches, like a Paris tote hanging from a door handle or a clock that embraces the theme. With these details, you could have a cultural vision of beauty and sophistication to bring baby home to.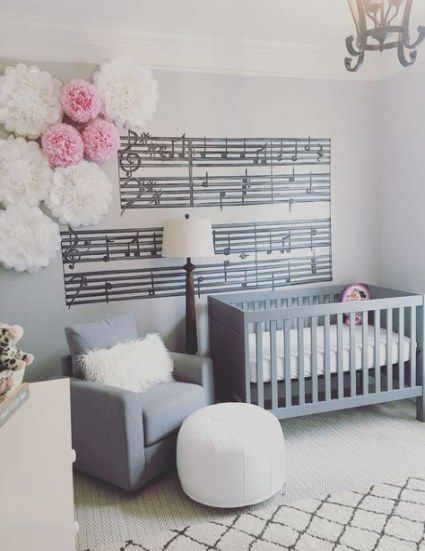 Music. This is another theme that can be made by the little touches. For instance, a series of musical notes to hang on the wall can be fairly cheap, but they add that musical feel to every area of the wall that you apply them to. Music quotes and boxes also reflect the theme, as do plastic replicas of vinyl records and a 50's style jukebox—whether a large one in the corner or a smaller one on a shelf. Either way, it brings a nostalgic, musical feel to the nursery, one that if you wanted, you could mirror throughout the room by diving into a 50's diner concept—like nostalgic restaurant plaques or a wall backdrop.
In regard to cribbing and such, again, you might have to buy the fabric and sew things, but don't stress too much over that detail as there are plenty of musical fabric options to choose from! Be sure to add musical toys that baby can play with as time passes, like toy instruments lining the shelves, a baby piano, and sing-a-long DVDs. It's not a music nursery, after all, if baby isn't ever allowed to play music in it!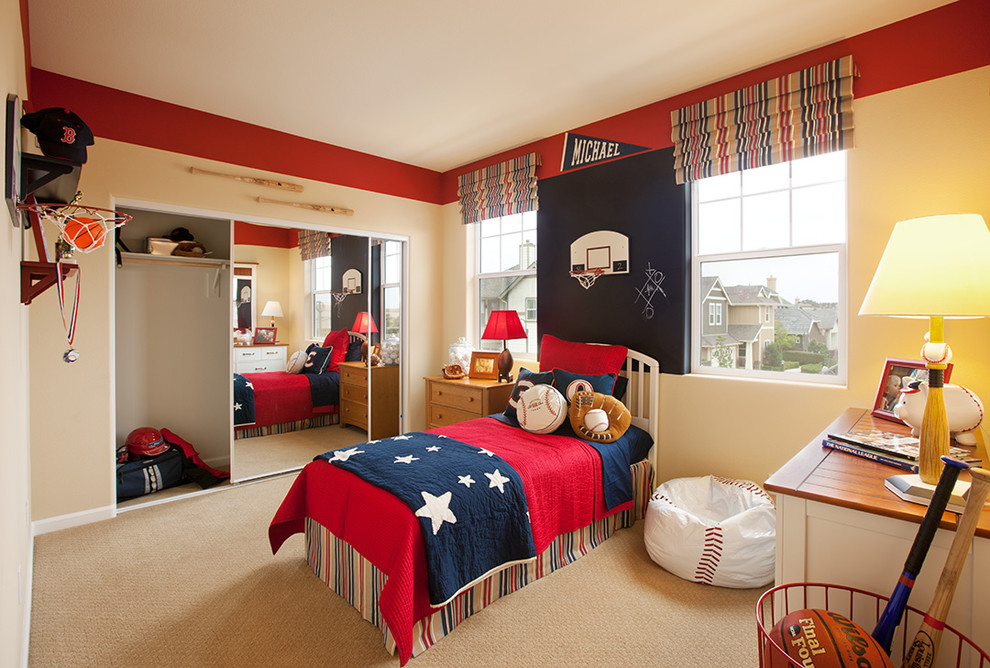 Other unique nursery themes can actually be too unique to cover in general fashion like the previous ones—like literature. Sure, a reading nook and bookshelves can go a long in building that theme, but if you have a specific book in mind, you can take that theme to its fullest extent—like tailoring your nursery to represent Wonderland, The Hundred Acre Woods, or Rivendell. Likewise, using a piece of classic art could be a great idea for inspiring a theme if you pick a specific work and try to find ways to make the nursery reflect it. If you choose Monet's Water Lilies , for instance, cool colors and flower additions could help in establishing the theme. Overall, these are basic ideas for nursery décor that you can add your own spice to!
No matter which of these out-of-the-box themes you choose though, you could be creating a memorable, one-of-a-kind nursery for a beautiful addition to your family!