Trends come and go in a number of fields, including music, movies, hobbies, and clothes, and home décor is no different in that regard! Throughout the decades, common styles and strategies for fancying up your house can arrive, only to surrender to brand new trends that are waiting on the horizon. But sometimes— sometimes —those trends can prove so appealing and enticing that their return is almost practical.
That's the case for the 1950's if you adore that time frame half as much as I do! There's something intriguing about sock hops, Rock & Roll music, and poodle skirts, and if you apply your planning accordingly, you can bring that same 50's feel to your kitchen at home. That way, as you bake, fry, and boil, you can be surrounded by things that take you back to that energetic and changing time!
For starters, think big colors when deciding on your paint options! While this isn't a regulation and you might find plenty of 50's kitchens that aren't bright and bold in color, it's a trait that was common enough to offer that nostalgic 50's feel! Mid-level blues, yellows, and greens are good possibilities for the paint on your walls, and don't shy away from pairing your bold paint choice with a set of cabinets that are bright white. The contrast from mid-level to bright white generates a stand-out effect from juxtaposition that highlights the changing feel of the 50's (Retro Staff, n.d.)—even down to the blend of musical influences that melded together create the newly emerged genre of Rock & Roll for the masses.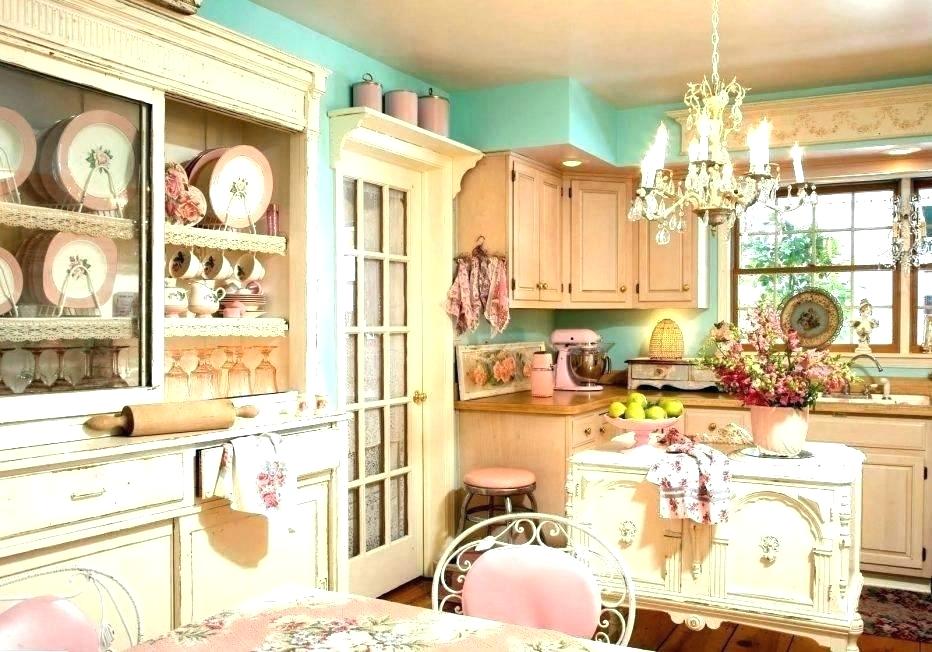 You can continue this mix-and-match of darker and lighter contrasts throughout your kitchen to bring that stylistic design to completion—dish towels, curtains, and even your appliances! As odd as that might sound, don't underestimate a blue refrigerator for fashioning the 50's kitchen of your dreams! It packs a nostalgic punch that's hard to duplicate!
One more thing about those cabinets before we move on is that steel can be your friend when trying to replicate a 50's kitchen in regard to the cabinets' structure, and don't forget the noteworthy chrome bar handles for opening and closing those cabinets (Wallender, 2017)! While this might not be the most complicated set-up for your cabinets, it's one of the most trademark possibilities to showcase the 50's atmosphere. It's simple and strong, and that back-to-basics feel is very, very 1950's!
Now that your walls are boldly painted and your cabinets are sufficiently steel and bright, remember that other structural details could—and arguably should!—be applied to a 50's kitchen if you want and can afford to give the room the most authentic vibe possible. Put your kitchen table, for instance, right in the kitchen rather than setting it in a completely separate dining room, and remember that extending your cabinets outward to create an "L-shape" (Wallender, 2017, Section 8) can also reflect the style of the day—even if part of that shape doesn't line up against a wall! That stand-out counterspace is very much connected to the 1950's, and it can do wonders for bringing that nostalgic atmosphere into your home's kitchen!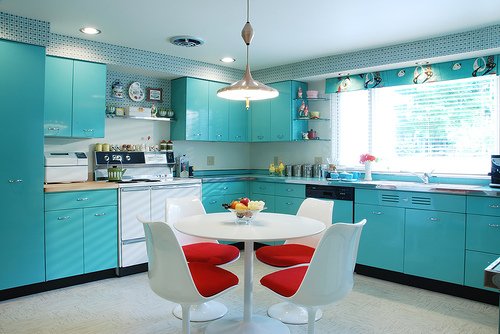 For that mentioned kitchen table, showcase the coloring that you used on your cabinet handles for the seats and table legs with the typical chrome and vinyl sets that are so often linked with a throwback kitchen! That distinctive appearance is roguish and reckless enough to represent the decade responsible for the birth of Rock & Roll music! Be sure to pair that chrome on the table-and-chair sets with the same bold colors you used for your wall. Do this by making sure that the backing of the chairs and the tabletop match the paint for your walls, or if pressed, go with that bright white from your cabinets. Either way, you could create within your kitchen a table-and-chairs vision that mirrors the 1950's to perfection!
Don't overlook the possibility of 50's-inspired cooking supplies either! A bread box from the decade could be very distinct with one or two bold colors for its coating and a generally geometric shape, and a 50's-inspired canister set can embrace those same types of qualities (Retro Kitchen, n.d.)! Whatever color you used to embolden your walls can be used as a guideline for these supplies. If your walls are green, for instance, maybe you can use a lighter shade of green for your canisters and a shade darker for your bread box. That way, everything is linked and complemented by something else, but the supplies are still bold enough to catch someone's eye against the paired white you have across your kitchen!
And what kind of kitchen would you have without little knickknacks and things on your walls, on your counters, and on your refrigerator? Don't forget to include them, and be sure that when you look through your options to choose them, you think, "Diner!" Whatever imagery you would expect from a diner setting, use it for your kitchen!
If you aren't sure what those kinds of things are, there are some signs that indicate a diner feel that you can use as guidelines as you accessorize your kitchen. These things often look rustic, like they were created on wooden platforms, and references to food and diners themselves are often what's painted on that platform (Retro Kitchen, n.d.). Words are common, things like "Hot Dogs" with a given price, but you might find images that are simply pictures of food. If you're lucky, you might even find a full-fledged menu sign to hang on your wall! Whatever the form these wall decorations take, that rustic look they offer will do wonders to 50's-up your kitchen and create a diner feel.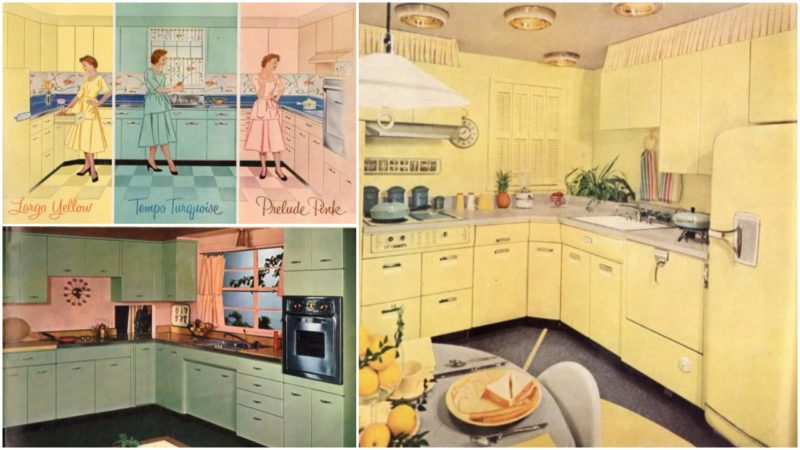 You can also add diner table accessories—like a fountain straw dispenser, a metal napkin/ketchup/mustard holder—and if you want to go all-out with this theme, reach back into the 50's to add a brightly colored rotary phone (even if it's just a prop!) and a tabletop jukebox. Combined, your knickknacks can empower that 50's atmosphere with the little touches coming together for one overall setting of home décor artwork (Retro Kitchen, n.d.).
Now that all of those higher-up concerns are covered, we can now turn our focus to the floor! For that topic, there are, again, a number of options to choose from, and each might be just as 50's as the previous one. For my preference though, you can't go wrong using a checkered-pattern for your linoleum that matches the rest of your kitchen in color since the bold colors are intermingling with brighter white squares on the linoleum's pattern. With an appearance that almost resembles a dance floor, this flooring choice can get you thinking of sock hops and jive steps in true 50's fashion! It's fun, energetic, and totally 50's!
And with those recommendations in mind, you have a guide on how to make everything from your cabinets to your floor 50's enough to stand out and spark a beautiful wave of nostalgia right in your kitchen! You could create your favorite dishes in a room that embodies your favorite decade based on these aspects and considerations. For someone who loves the 50's, you truly would have created a gem from the decade right in the midst of your own home! So, what's stopping you from doing just that?!
References
Retro Kitchen. (n.d.). Retro Planet . Retrieved from http://www.retroplanet.com/CTGY/Kitchen.html
Retro Staff. (2010, April 12). 1950s Decorating Style. Retro Planet . Retrieved from http://blog.retroplanet.com/1950s-decorating-style/
Wallender, L. (2017, February 3). Kitchen Trends Introduced in the 1950s.
The Spruce. Retrieved from: https://www.thespruce.com/1950-kitchen-photo-galle…