Every woman has a trustee black dress in her wardrobe that makes her feel extra glamorous, stylish and confident every time she dons it. You know that perfect piece of black clothing that accentuates your curves at the exact right places while masking the flabs you don't dig. We have all got that safety little dress and we tend to overdo it a little at times. This is why , today we are putting your black dress dilemmas to a rest with our fresh innovative ways to style a simple plain dress in ten cool fashionable ways.
Bid farewell to your signature style of donning a black dress; you have snapped enough picture in that one particular style . It's time to spruce up things and take your fashion game to the next level. Let's proceed, shall we? Our exclusive collection is perfect for those bidi bidi bom bom looks.
#1 Style with a Leather Belt
Jennifer Anniston recently worn a plain sold colored jumpsuit-dress hybrid to Ellen's show with a sexy front slit. America's sweetheart accessorized the dress with a chunky massive brown leather belt for a rustic vintage vibe. This indicates massive statement belts are in vogue again. Style your black dress with a leather belt to accentuate your curves. Take a coordinating hand clutch; brown wedges and preferably round sunglasses with brown metal rims to finish the look.
#2 Wear a Printed Bomber Jacket on Top
For jazzing up a plain black dress more along the lines of a contemporary urban street style, a printed floral bomber jacket is the perfect fit. With sleek straight hair, a leather black clutch and multicolored sequin block heel boots, this would be a very trendy and ch ic daytime look for the winter season.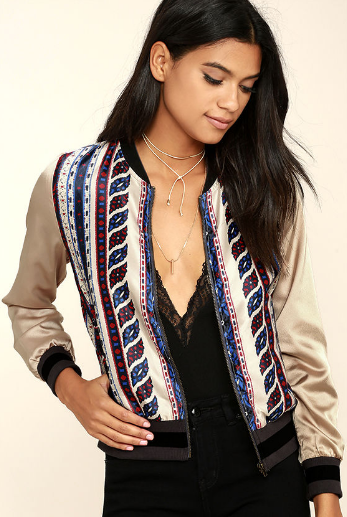 #3 Try a Chic Button-Down Underneath
Well – so much for layering over a black dress, think a little outside the box and take out one of your chicest and nicest printed button down. Something subtle and vintage like polka dots or stripes would fit the bill better. Wear the button down underneath your black dress to instantly elevate the entire monochromatic appearance. Match your heels and accessories to the color of your button down. Add a nice little headband and some round hoops for a retro vibe – this is the dress you don for wild clubbing nights.
#4 Pair a Bright Overcoat on Top
While most looks from fashion shows make us shake our heads in disapproval for their lack of adaptability in practical realist environment, this one in particular has stuck with us. As seen in the front rows of Fall/Winter 2018-19 fashion trends and later as an essential part of Meghan Markel's royal sartorial glam – pairing a bright winter overcoat on top of a plain monochromatic dress is quite fashionable. Style it with traditional pointed toes stilettos for work and business meetings for an authoritative and distinguished look.
#5 Wear a Cocktail Dress with Sneakers
With Athleisure fashion being the vibe of the times, white women sneakers are having a hot minute of popularity in the streets right now. For a casually dressed down look involving your trustee cute little black dress, we suggest swapping your high heels with white sneakers and some cool sunglasses. Add on a dainty multilayered necklace to keep it feminine but relaxed.
#6 Add an Embellished Collar
For times when you w ant to dress up your black outfit for a big night in the town, we suggest adding an embellished collar to add an air of sophistication and distinguished style. Style it with an elegant hair up-do, clustered diamond earrings and some fancy high pencil heels.
#7 Add a Crochet Crop Top
Of all the 60s and 70s fashion trends that made their way back to recent times, crochet is one thing we are really on board with. For one, it adds a nice little something to make your dress appear very bohemian and unique. Have got a beach party to attend in a black dress? Layer a crochet crop top over your dress and give almost an entirely new look to it.
#8 Style it with Denim & Gold
One of our most coveted ways to style a black dress for day times is to pair it with a distressed denim jacket and some nice ankle boots. But if you really want to take your look to next level, add some clip-on metallic gold waist chain for a nice biker girl vibes .
#9 Leather Jacket & Faux Leather Jacket
If the Brooklyn nine-nine's Rosa Diaz was to don a black dress for a party, how would have she worn it? We asked ourselves this question and came up with one of the most eclectic and badass outfit combo for a plain black dress. Style it with black leather jacket; black faux leather leggings and a nice black scarves draped around your neck! This is the stuff your gothic dreams are made of, we tell you!
#10 Wear it with a Floral Jacket & Silk Scarf
Looking for ways to wear a black dress in a professional environment without having to don something too structural and boxy? We think you would appreciate this chic 'Parisian meets Business Casual' attire we are about to suggest. Get yourself an Asian Kimono-inspired floral jacket and a coordinating silk scarf. The jacket would add a touch of professional elegance and a silk scarf adds feminine sartorial glory. Velvet kitten heels would look fabulous with this outfit combination.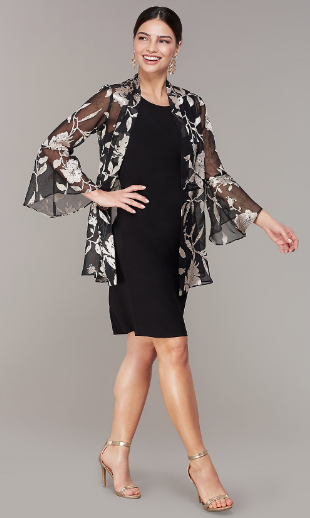 Bonus Tip: Amp Up Your Black Dress with the Right Jewelry Selection
While there's are unlimited ways you can play around with clothing pieces from your wardrobe to dress up and down a black outfit , sometimes all you need is right style of jewelry. A statement choker with stones and beads would give your outfit an eccentric bold vibe; a delicate strand of white pearls would keep things dressy and fabulous; last but not the least a gorgeous hand embroidered traditional necklace would ascribe ethnic tribal look to your outfit.
With these fashionably apt and effortless to achieve styling suggestions, never have a boring outfit day again.
Source: Forcoolfashion.com