In recent times, video content is widely used for many purposes, especially for promoting a business. Mobile apps have made video editing easier and more convenient. With little effort, you can get the best results, and you can do it on the go. There are many video editor apps out there, and sometimes it may be tough to decide which one to go for.
However, among all the apps out there, a few of them stand out. So, I will discuss the best phone apps for video editing to help you make a decision.
Comparison of the Best Video Editor Apps
| | | | | | |
| --- | --- | --- | --- | --- | --- |
| Features | Adobe Premiere Rush | InShot | KineMaster | VivaVideo | ActionDirector Video Editor |
| Multi-track timelines | ✓ | | | ✓ | |
| Free of charge | ✓ | ✓ | ✓ | | ✓ |
| Supports 4K video | | | | | ✓ |
Adobe Premiere Rush
Adobe Premiere Rush is a wonderful app for video editing. It is similar to Adobe Premiere Clip but includes a few unique features. It has a user-friendly interface that is very responsive. It allows you to easily make amazing videos that are customizable to your desired taste. When you finish editing your videos, you can easily upload them to different social media websites, including YouTube, Vimeo, Facebook, Snapchat, Twitter, and Instagram.
This video editor comes with some other useful features like cloud syncing, multi-track timelines, and advanced editing tools. It has a free version, but its paid version will cost you up to $53.99 every month. It is expensive when compared with its competitions, but it makes up for this steep pricing with features. The app is included in Adobe Creative Cloud's subscription, so you should try it out if you are using that service.
Pros
Easy to use and offers necessary guidance to beginners
Exporting files is easy compared to competitors.
Includes better color and title tools than its competition
Synchronizes projects between desktop and mobile for better ease of use
Cons
The app contains limited audio and video editing tools.
It cannot specify the exact format for output files.
InShot
InShot has a very simple user interface that is filled with plenty of useful features for video editing. It focuses on video trimming, filters, and shorter videos and is good for making videos for social media upload. Its timeline editor is simple and includes multiple audio and video channels. Inshot also includes other tools such as a music selection, cropping, and many other things such as fading in and out.
This amazing video editor app also includes tools like sticker packs, Its toolset, speed controls, etc. it is good for editing videos for platforms like TikTok, YouTube, and other similar platforms. It has only one price tag ($29.99), including its subscription. InShot has a free version, but its paid version will cost you$2.99 per month. If you want to pay for a year, it will cost you $9.99.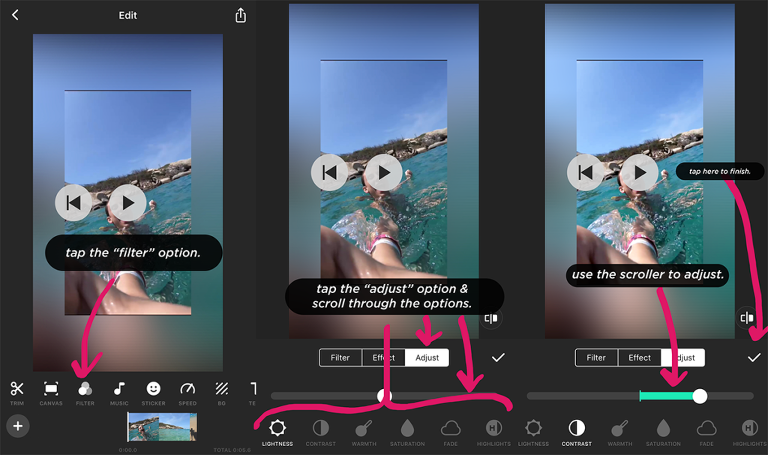 Pros
It includes music, sound effects, and a recorder.
It has Video Transition Effects, Video Converter, and Photo Slideshow Maker.
Professional Photo Editor and Collage
Includes Text and Sticker
Cons
No much information on how to use it
KineMaster
KineMaster is one of the first apps for video editing, and it is quite good. It enables you to edit your videos and get your desired results easily. It comes with many layers for video, image, and effect. KineMaster also includes features like chroma-key (for your green screens), audio filters, many video effects, transitions, etc. Although KineMaster is not as strong as a desktop video editor, it is more powerful than most of its competitors.
You will find this video editor to be good for video productions (e.g., for YouTube). KineMaster does not come for free, but you will use its trial mode for free for a while. If you need to keep using it, you will need to pay $4.99 every month for the subscription.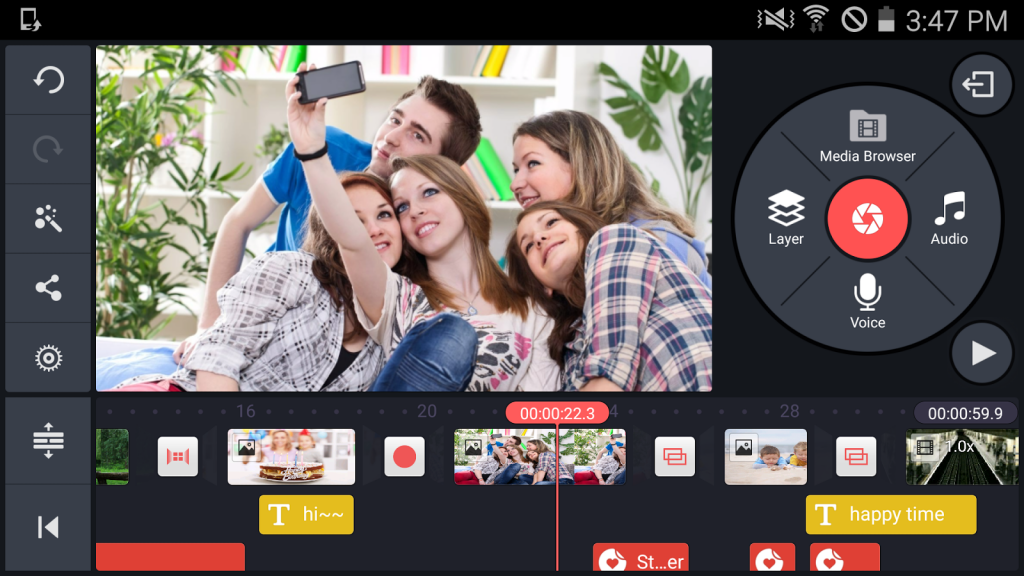 Pros
Easy and Flexible Adjustment Tools
Social Media Integrations
User-Friendly Mobile Video Editor
Real-Time Recording
Cons
You cannot control video speed
VivaVideo
VivaVideo is another video editor app that is widely used. It is very good for editing short videos for social media. This video editor app allows you to load clips, trim, and edit them as you desire. Once you are through, you can now move to the next segment. VivaVideo has many filters and many other effects, slow and fast motion support, and text input.
VivaVideo has an in-app camera with different modes for capturing videos and live effects previews. It includes over 60 effects that you can choose from with more downloadable effects. This video editor includes a free version that comes with a time limit for videos and a watermark. You can get rid of these restrictions by purchasing the pro version for $3.99.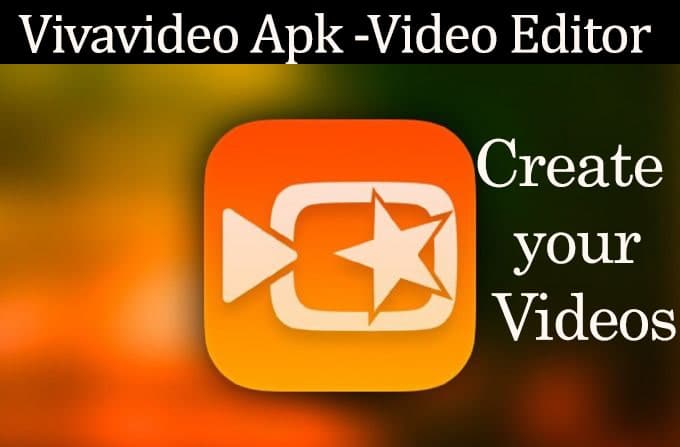 Pros
Merge videos and create montages with storyboarding features
Enhance videos using themes
Edit frames within a video
Social media integration
Cons
Cannot work with VR videos
ActionDirector Video Editor
ActionDirector is another great video editing app out there. It is available on PC and Android. This amazing video editor app allows you to load clips, edit them, and render the video. It also has features for adding your music, trimming and cutting videos, adding text, employing slow motion, etc. ActionDirector supports 4K video, but you will also need to check if your device also supports it.
You can confirm if your device supports 4K video by the developers' nifty tool in the Google Play Store. ActionDirector also gets updated frequently. The app is free, but its paid version will cost you $3.99.
Pros
Supports adding fast or slow-motion effects and more
Can edit and create 4K videos
Free of charge
Cons
Can only be used on Android devices
No support for filters and layers, unlike most other apps.
Conclusion
Phone editor apps are useful for editing videos conveniently. They come with many features to help you get your desired results. There are many video editor apps out there competing for the number one spot. But with this review, you should be able to make an informed choice on which ones to go for.
Written exclusively for our company by Sherise
Source – CoolMambo.com