An excellent set of earphones is an essential component for any voice acting studio. It does not matter if it is a home studio, your crew's rehearsal room, or the commercial studio you finally opened. You're going to need professional headphones to have fun and sound good. Here, we've made a list of the best headphones for voice actors.
1: Sony MDR-7506
These closed-back headphones are the cheapest on the list. The price is usually around $89.99, and they are also a classic of recording studios. Professional voice actors around the world also use these headphones. The MDR-7506s are not silent, but they will isolate the vast majority of external noise.
They provide an excellent bass response and a wide range of highs, although that means that some may find it tiring to use for a long time. That said, they are quite comfortable to carry and include such amenities as a soft bag (they fold up for storage) and the rigorous 6.5mm adapter.
Pros:
Provides noise cancellation
Comes at an affordable price
Comes with a soft carry bag for improved comfort.
Cons:
Can be tiring to use for long
Features non-detachable cable.
2: AKG K240 Professional Recording Studio Headphones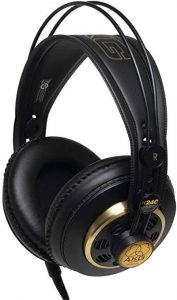 These headphones combine the best of two worlds, as they are semi-closed. That means they are a good hybrid if you are looking for a pair of headphones that meet the vast majority of your requirements. I mean, suitable for recording and post-production. The price is usually around $67, almost always below $70.
The AKG K240s are one of the classics in the world of voice acting headphones. In general, these headphones are known for being extremely reliable and balanced. They are not boosted at any frequency, so you can be sure that what you hear when recording is what you will listen to later on a home or car stereo.
Also, in the new version (AKG K240 MKII), they come equipped with two types of padding and two cable types. One is straight and 3 meters long, and the other is curly and 5 meters long. The great thing about this is that even if one of the cables fails you, you have a replacement, and it is easy to order a new one online.
Pros:
Offers clean and clear sound
Features two different paddings
Comes with replaceable cables
Cons:
Responds poorly to bass subs
Offers poor noise isolation
3: Sennheiser HD-280 Pro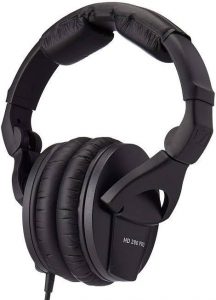 According to the audio engineers at Sound on Sound, the HD-280s manufactured by the German firm Sennheiser are the best option for closed headphones if you don't intend to spend more than $100. They generally set you back around $99.95.
They are also one of the most comfortable headphones on the list, mainly because the earpads' diameter is relatively larger. Hence, they can completely cover most of the ears without becoming uncomfortable during long sessions. Finally, both the cable and pads are replaceable, so they should possess a lengthy lifespan presuming they are used commonly.
Pros:
Made from durable material
Offers comfort to its user over a long session
Offers clean and accurate sound performance
Cons:
Features a bulky and unstable design
Offers poor sound isolating
4: Beyerdynamic DT770 Pro 250 Ω.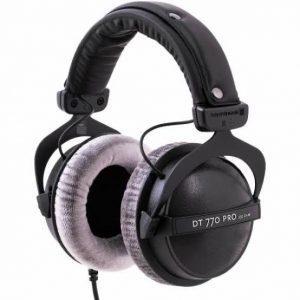 One great thing about these closed-back headphones is that they are used for various professional applications. Of course, there are recording studios, home studios, but they are also great for broadcasting podcasts or radio programs. These Beyerdynamics typically cost about $156.50 and includes replaceable pads and cables. The primary thing you are going to discover on these is perhaps the silver ear pads. These are incredibly comfy, so we dare say that they are the most excellent choice regarding comfort on this listing.
However, the DT770s offer a reliable and well-balanced sound. They also have Beyerdynamic's "Bass Reflex" technology, thus presenting very defined and clear bass without losing points in terms of mixing reliability.
Pros:
Offers great sound isolation
Comes with a carrying case for easy mobility
Offers sturdy and durable quality
Cons:
Lacks bass subs
Leaks sound at high volumes.
5: Beyerdynamic DT-100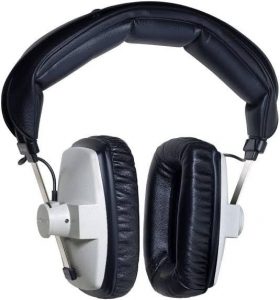 The DT-100 is world-famous and somewhat controversial as to its use. However, it is widely respected and used by professionals around the world. Their fame stems mostly from the fact that they are legendarily good at recording vocals.
Having tested them ourselves, we can say that the reason they are so comfortable for voice acting is that they provide a robust mid-high accent and deliver very pronounced high-frequency sounds. This is an excellent thing for those who record voices in the high-frequency range. Also, like good closed-back headphones, they give excellent isolation and can sound quite loud before distorting.
The DT-100s are, more than anything, a pair of sound monitors turned into headphones. They are incredibly durable, which is why they have kept that particularly vintage design for all these years. In terms of price, they tend to be close to $186.
Pros:
Offers a unique sound experience
Features high-grade industrial components.
Comes with a standard vintage design
Cons:
Seems to be a bit expensive
6: Audio Technica ATH-M50x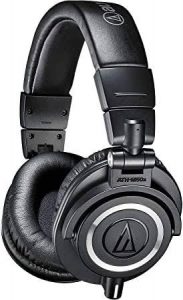 The ATH-M50 is one of the most celebrated headphone models by voice acting professionals. There has been a noticeable degree of increase in demand in recent years. This increase in demand forced Audio Technica to redesign the entire M series to obtain a more comfortable and modern design without losing its distinctive sound.
The new version, the ATH-M50x, offers clarity, extended frequency range, and excellent bass response that these headphones have always been known for. Additionally, the headphones fold up for easy storage, and the cable is detachable. Also included are three different cable variants; one curly of 3m, and two straight ones of 1.2 and 3m. In other words, the ATH-M50x offers everything you would expect from closed headphones at an extremely reasonable price. They are usually just over $149. They are indeed the only option in that range that boasts such versatility in design.
Pros:
Features power bass
Offers good stereo separation and imaging
Does not compromise the audio experience
Cons:
Offers poor noise isolation
Features mainly plastic construction.
Buyers Guide
The following criteria must always guide the choice of a good headphone for voice actors:
Ease of use
Before purchasing a headphone, we advise that you try placing it over your head. Doing this will help you answer the following essential questions. Does it have a good posture? Is it a little too tight around the ears? What do you think of the material used for the headband or the headphones? Is it heavy to carry? Try to imagine yourself wearing it every day.
Durability
As with any technological object, durability is a determining criterion, especially if you plan to invest a certain budget in it. Pay attention to the materials used in producing the headphones.
Design
When looking for a headphone for voice acting, you have to put the headphone's design into consideration. An open voice acting headset will give more amplitude to the tympanic membranes because less sound pressure is formed inside the headphones. Thus, the sound will appear better defined compared to that provided by semi-open or closed headphones.
From another point of view, a closed model could be used as a headphone sound monitor.
Price
Price is a significant factor to consider when choosing a headphone. It is advisable to draft out a budget depending on your needs. It is important to note that the price of a headphone does not always correlate to its quality.
Conclusion
Being part of any movie is very exciting and rewarding for voice actors. As a voice actor, your headphones must be good enough to help you monitor your voice while preventing damage to your ears.
Voice actors often have to wear headphones for long periods, so it is advisable to choose a headphone that you are very comfortable with. All the options above are excellent in their way and give you full functionality. Factors such as comfort, design, noise cancellation, sound clarity, and price were in mind when making this list. So, take your time and find the one that best suits you.
Written exclusively for our company by Jacob Uzoma
Source – CoolMambo.com