Graphics design Software is an essential tool that can help improve your graphic design career. If you are reading this, you're probably looking to add essential graphic design software to your collection. Look no further as we have gathered a selection of 12 essential graphics design software to help you work creatively. No matter your level of experience, these graphic design software will help your career the boost you desire.
This software list has been carefully selected based on its features, performance, and ease of use.
Let's get started.
1. Canva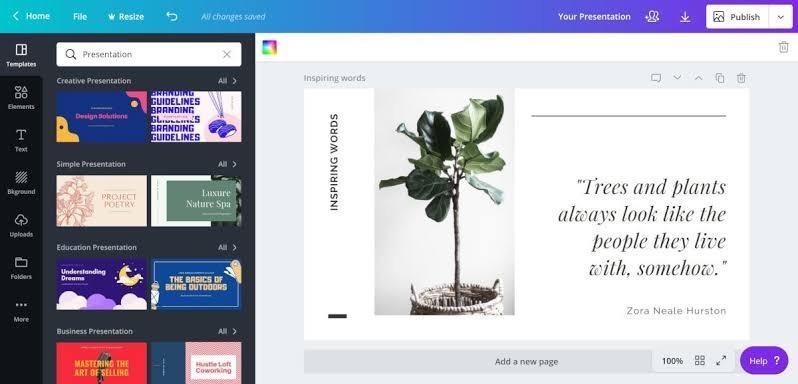 If you are looking for an easy-to-use graphic design program, Canva is one of the best options on the market. Thanks to its intuitive web usability, this platform has quickly become one of the most widely used free graphic design programs for beginners worldwide.
However, it is worth noting that Canva is also a favorite among professionals looking for an inexpensive, easy-to-use product suitable for collaborative projects.
Pros:
Easy to use
Offers a wide selection of customizable templates
ideal for social media content
Cons:
Does not offer complete designs on its free version.
Lacks a complete set of drawing tools
2. Pixlr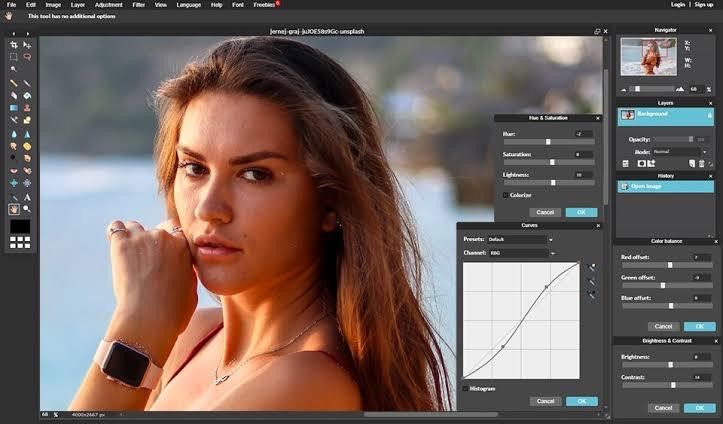 Suppose you are looking for a photo and image editor. In that case, Pixlr is one of the most popular online graphic design software on the market. When you consider the more than two million combinations of filters, layers, and borders that it offers, Pixlr is sold as "the most popular online photo editor in the world."
Pros:
Easy to use
good image quality
light file sizes
Cons:
The free version contains a lot of ads
requires Flash installed.
3. Snappa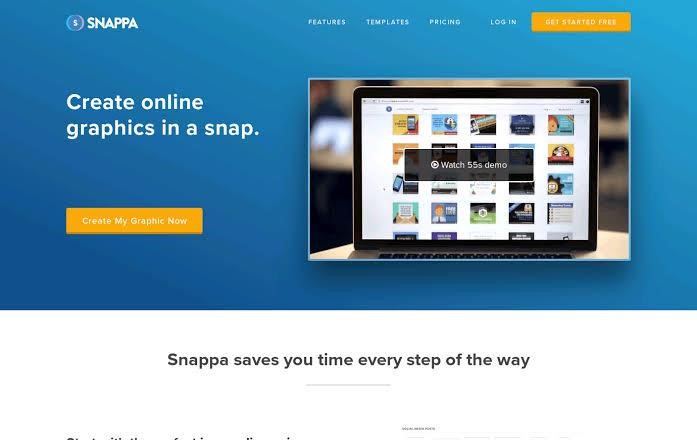 Snappa is one of the programs that has slowly been gaining strength in online graphic design. One of the main reasons for this is that it appears to be one of the best alternatives to Canva. This program fills some of the gaps that Canva presents. It is worth noting that this is one of the free graphic design programs that offer the most variety of images and icons.
Pros:
Simple interface
huge selection of templates and free images.
Cons:
The free version only allows you to download three designs per month
limited use of formats to upload your photos.
4. GIMP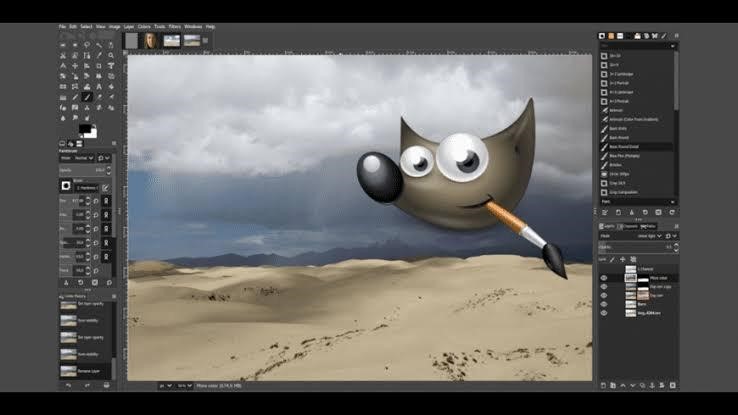 This open-source software for graphic design is widely regarded as the best free alternative to Photoshop. For many professionals, it is the most complete and convenient free graphic design program that exists. If you are interested in this program, you will surely need time to learn how to use it. However, this program will not disappoint you regarding the results you can get.
Pros:
offers a wide selection of editing tools as well as filters
It comes with the support of several tutorials and forums that will help you.
Cons:
Its interface is not very intuitive
the order of the editing tools is not the best.
5. Gravit Designer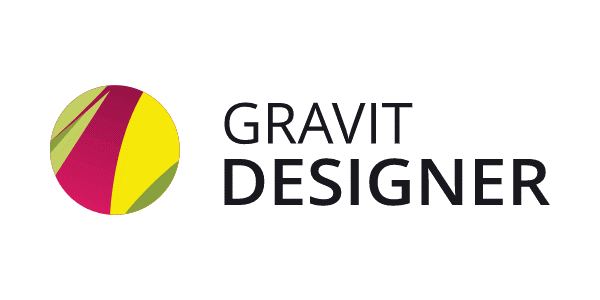 Gravit Designer is one of the professional graphic design software that offers online versions and PC versions. Best of all, it is a free program and ideal for all those looking for advanced functions at the vector design level. With this program, you can make all kinds of designs, such as icons, illustrations, and even animations.
Pros:
It is free and available online.
It features an intuitive interface.
Cons:
It does not offer full features when compared to other software.
It lacks shareable features.
6. Adobe Photoshop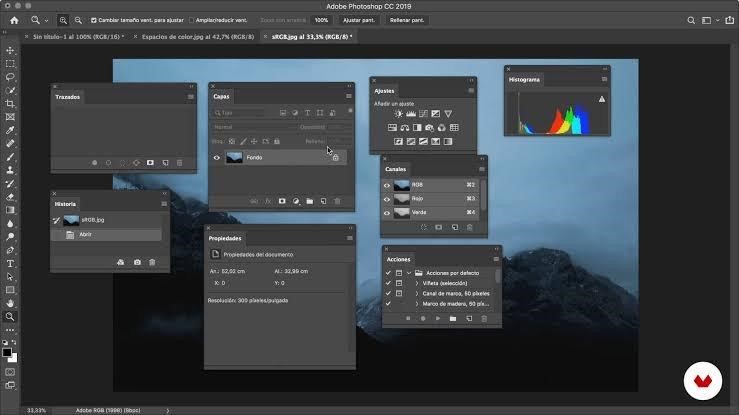 Adobe Photoshop is the tool of choice for professionals in the industry for making designs of the highest level. Thanks to an intuitive interface with which you can edit photos to the smallest details or create illustrations of the highest level, Photoshop remains the graphic design software for excellence.
Pros:
features an intuitive interface.
It comes with unmatched power to edit photos and create high-quality illustrations.
Cons:
It takes time to learn how to use it properly.
Offers poor vector support
7. Adobe Illustrator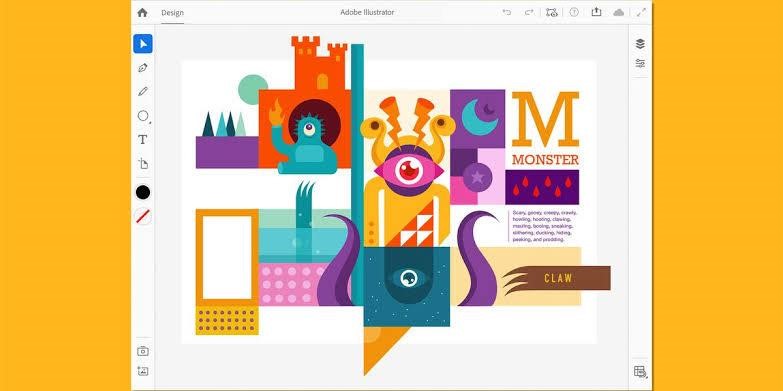 Adobe Illustrator is another name that has established itself over time as a synonym for excellence in the field of graphic design. It is particularly strong at the vector design level, making it one of the best programs to design logos, icons, fonts, and illustrations of any nature.
Pros:
Features a comprehensive interface
compatible with Apple and Windows
Offers excellent vector design.
Cons:
Learning this tool can be hard at first.
Can slow down other programs on a computer
8. Adobe InDesign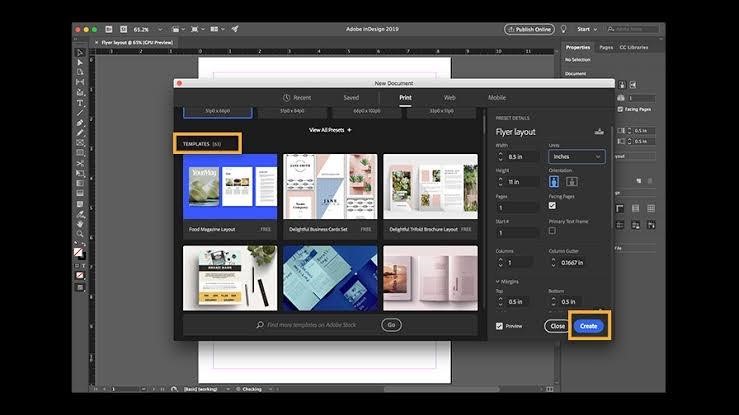 InDesign is another successful professional software graphic design in the Adobe family. It is a very versatile graphic design software that you can use for digital designs and prints. For this reason, Adobe InDesign is a widely used tool for magazine and book design.
In addition to this, InDesign is also used to create interactive documents. Various elements, such as audio, video, and animations, can be incorporated. Thanks to this capacity, it is also considered one of the best advertising programs on the market.
Pros:
Ability to layout and display text for digital and printed publications.
Offers the ability to create interactive documents
Cons:
Not suitable for those who want to use it sporadically.
Requires investment of time for learning.
9. CorelDraw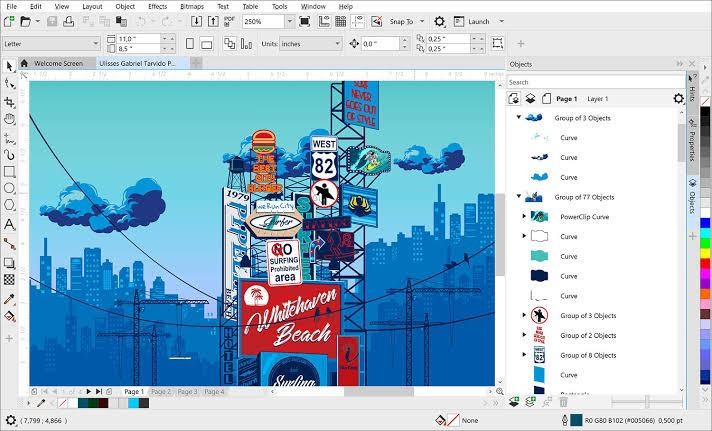 CorelDraw is another of the most valued design programs among graphic design professionals. This design software is considered the strongest competitor of Adobe thanks to the excellent performance at the vector design level and as a tool for designing logos and illustrations.
Pros:
Useful for editing photos and working with vectors
Comes with an intuitive interface
Features good tutorial support.
Cons:
Comes at a high price
It takes time to learn.
10. PaintShop Pro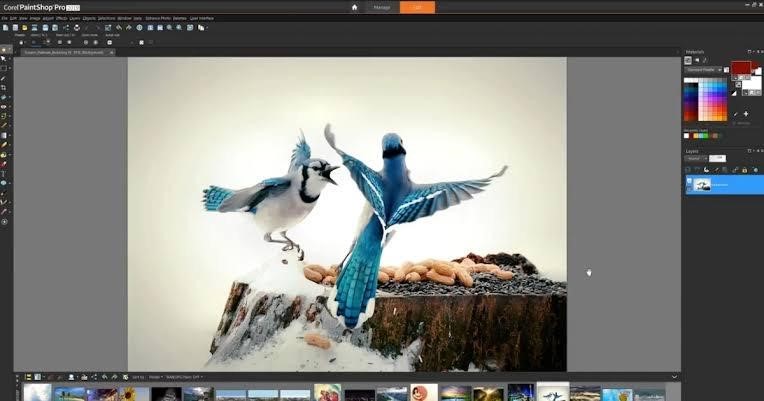 PaintShop Pro is another essential software for graphic design that comes across as a valid alternative to Photoshop. This design program is, above all, a photo editor that stands out for the multiple functions it offers, such as its countless effects or a cloning technology (SmartClone) that allows you to combine elements of various images precisely.
Pros:
It features a simple and intuitive interface.
Offers multiple functions and effects
Comes at a reasonable price with a 30-day free trial.
Cons:
Less speed and precision than other advanced graphic design programs
Comes with a cluttered layout
11. Figma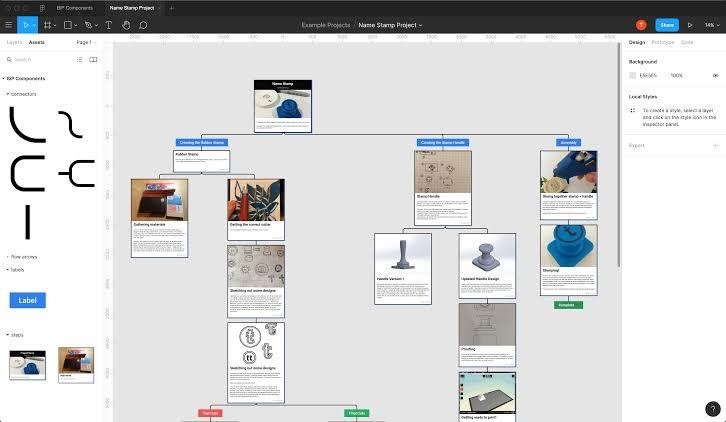 Suppose you need an online graphic design program that allows you a simple and effective collaboration with your colleagues. In that case, Figma is one of the best options you can get on the market. This feature is reinforced by the fact that this platform lives in the cloud and eliminates the need to create countless files.
Pros:
Features an attractive and clear interface
Serves as a collaboration tool.
Cons:
It tends to be slow when working with massive files.
Requires constant access to the internet
12. PicMonkey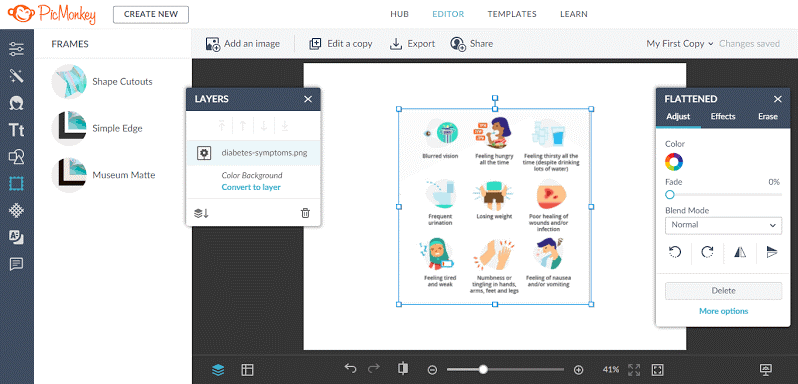 PicMonkey is an easy to use graphic design program, which makes it quite suitable for beginners. However, this program offers functions that make it a tool valued by professionals specialized in marketing through social networks. Some of these features include a good selection of photo effects, templates, and animations for the content you want to share on social media.
Pros:
Offers a light and fast experience to edit photos
Offers a good selection of effects
Features attractive animations for content on social networks.
Cons:
The free version is quite limited.
The software may seem too basic for professionals.
Conclusion
As you can see, there is a vast range of possibilities regarding software for graphic design. As a graphic designer, you have to take time out to assess your visual needs carefully. This will help you decide which of these graphic design software will suit your needs and style. However, we advise that you choose your software with a high-level taste, quality, and creativity. So, feel free to try out any of the graphic design software on our list.
Written exclusively for our company by Jacob Uzoma
Source – CoolMambo.com