If you are in the United States and on the west coast, Seattle is a city that we insist be a stop on your list of places to visit. On our tour, we stayed in this city for about a week and a half, touring its various attractions and dining at its wonderful restaurants in an attempt to experience all that the city has to offer. This article offers you a brief overview of some of the best places to stay and visit while you are in this beautiful coastal city.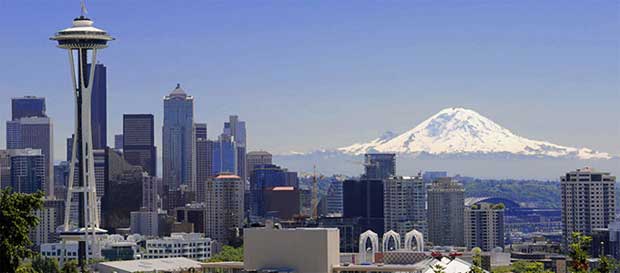 When we first arrived in Seattle, we found that there were many different accommodation options available in which to spend the night.However, if you are looking for quality hotels that have great service, you need to look no further than downtown. We narrowed our choices down to three hotels. This will give you a sizable budget range for your trip and offer you a wide range of options.
With the help of TripAdvisor, we chose the Executive Hotel Pacific as our low-budget option. This hotel is older and located in the heart of downtown Seattle. Its views may leave you wanting, but the cost and location of the Executive Hotel Pacific cannot be beat. Additionally, the hotel has recently been renovated and offers lovely service and decor. It is close to all of the important locations downtown, such as the Space Needle and Pike Place Market.
If you have a larger budget in mind, but do not want to break the bank, we recommend Hotel Andrea. This hotel is also located in downtown Seattle making it easy to travel to any and all attractions in the area. Hotel Andrea has a clean, modern layout and a beautiful in-house restaurant if you do not feel like venturing out for food.
The Fairmont Olympic is recommended for a high-end budget. The building is beautiful and located in downtown Seattle near the aquarium and Pike Place Market. The Fairmont Olympic also offers one of the best afternoon, or high tea, services available in the city. The hotel has a historic beauty to it and is ideally located close to everything that you will want to see.
Pike Place Market is one of downtown Seattle's biggest attractions. The outdoor market has been around for over a hundred years and is easily one of the busiest places in the city on a day-to-day basis. This wonderful market is home to hundreds of local merchants selling everything from fresh-caught fish and produce to handmade instruments. The market is huge, allowing many different merchants to sell their wares. It is definitely a site worth checking out.
The Space Needle is Seattle's most famous landmark, built for a world's fair in 1962. It towers over the city, encompassing a large part of its skyline. The view from the top of the needle is nothing to sneeze at either. You can see the entire city; if you are lucky, you can even catch a beautiful view of Mount Rainier.
The Chihuly Garden and Glass museum is a monument to one of Seattle's great glass artists, Dale Chihuly. This museum houses a large amount of his work collected in one place. If you are a fan of art, glass, or architecture, you are going to love visiting this place. The glass work is beautiful, and the gardens around it are gorgeous. The artwork complements the natural scenery making the garden one of a kind.
Located slightly north of the downtown area, Discovery Park is one of the most beautiful places to take a walk in Seattle. It is the city's largest park with over a hundred acres of forested land for you and your family to enjoy. The park offers numerous trails with plenty of beaches and bluffs to see.
We visited all of these places on our whirlwind tour of Seattle, WA, but barely got to see a quarter of what the city had to offer.Despite the fact that we did not get to see much, we were incredibly impressed with the city overall. We plan to go back and visit more of its attractions as soon as possible!
If you are looking to travel in the Pacific Northwest anytime in the future, make sure you spend at least a few days in Seattle, WA. It is a truly unique and beautiful city with a lot to offer.
Visit our website https://www.forglobaltravelers.com/