Let your imaginations, creativity and fashion sensibility run a little wild this holiday season. Break yourself free form the comfort and coziness of your regular wardrobe and experiment something a little extra dramatic, extra dazzling and extra elaborative for your office or home holiday parties, dinner dates with the significant other and we would also throw in suggestion s for something traditional yet modern, modest yet sassy for the holiday season family gatherings.
Here are ten effortless fashion and styling suggestions to take a plain and boring regular outfit to a hundred watt holiday glam – let's proceed. Shall we?
#1 When in Doubt, Don a Black Jumpsuit
If you thought you had seen the last of women jumpsuits, my dear you were too quick to judge. Women jumpsuits are trending in full bloom for the holiday season 2018 and maybe now is the time to give your little black party dress some rest for a while. Anywhere you can see yourself going in a dress, a jumpsuit would actually make up for a chic and glam alternative. We recommend you pick a jumpsuit with a sexy side slit and accessorize it with a metallic gold belt for an added oomph. Finish off with some embroidered block heels and you're ready to rock any holiday party.
#2 Sequin Your Tuxedo
Women power suits are truly fascinatingly charming and if you're the kind of boss lady who likes her suits, there's no rule in the fashion bible that revokes your right to shine in a tuxedo in a party. If tuxedo is what you like, tuxedo is what you would wear. But- an all-white tailored-fit tuxedo with a gorgeous high-waist flared bottom trouser. Ditch your starchy button down for the holiday and up your game with a sexy sequin blouse and metallic heels. That's how you glam up a tuxedo for an office party.
#3 Fur Up Your White Tuxedo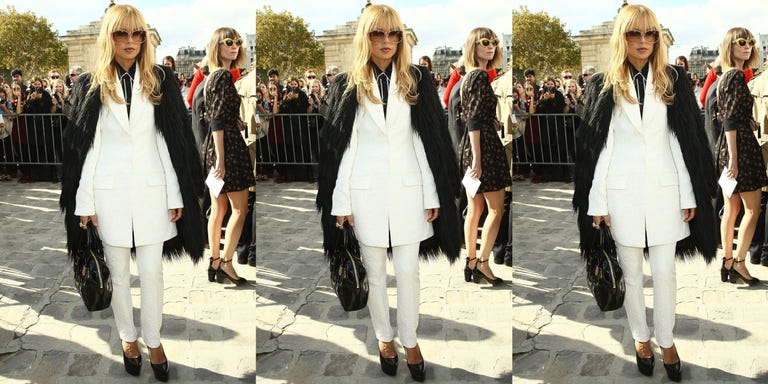 If it's a daytime office party for holidays, there's no way you are pulling out that sequin blouse underneath trick – for that would be 'extra' extra and not in a flattering way. When it comes to dressing up a business suit for a daytime holiday gathering the fashion rule book advices you play with your shoes maybe a pair of patent black pumps and a statement faux fur coat on the top with a stylish black leather bag and some high-end luxury sunglasses would furnish the look amazingly well.
#4 Stick to Sultry Greys & Smokey Hues
For your professional gatherings, if you wish to maintain your authoritative aura and an air of sheer professionalism but at the same time not wear the same cream and beige to work then it's time to turn up the heat with sultry greys and smokey hues. Jackets, skirts, dresses, shoes – everything looks gorgeous and glamorous in these shades. With this color palette in your dress, maintain the monochromatic vibe in your makeup as well. Smoke out your wing rather than a precise bold liner, just keep it casual and sassy! Also smoked out wings bring out y our natural eye color even more and goes perfect for a bright pout.
#5 Add something Extra to a Sophisticated Attire
For a little traditional setup such as your family gatherings at Christmas dinner, add on a statement jacket or shrug on top of a plain sophisticated dress to give off a festive touch. Fringes, laces, crochet, bold animal prints, Asian ins pired autumnal florals, ethnic blue architecture-inspired patterns are some of the styles very voguish for the holiday season. Might be interesting to incorporate one of these on top of a simple dress.
#6 Get on Board with the Glass Skin Trend
If you really want to take your holiday glam game to a solid ten, it's time to get on bo ard with the latest beauty hype – the famous glass skin trend. For holiday season, you want your skin and under eyes to look illuminating, dewy and glowy from within. Toss away your heavy duty full coverage foundations and concealers. To achieve the glass skin effect, you actually don't load up on highlighter, rather than that your focus should be on prepping your skin. Hydrating primers, mists and preferably a moisturizing sheet mask before you start the makeup application should do the job. Lightly apply the foundation where you need to even out your skin and voila !
#7 Don't Forget Your Hair
All work on your outfit with little to no attention towards your hair is actually an exact recipe of a fashion disaster. Surprisingly with the advent of holiday season, voluptuous curls and texturized hair have kind of taken the back seat and more slick shiny from the front and tied from the back hair dos are in. Make sure to pick a style that flatters your face and goes with your outfit. Ponytails and buns would be better rather than wearing your hair down this season.
#8 Play with the Pout
If there's one person we really look up to for holiday makeup trend report it's the celebrity makeup artists and cosmetic creator Lisa Eldritch. And according to h er all shades of red would be on trend for the holiday season. From deep oxblood red to orangish burnt sienna – pick a shade of red lipstick that flatters your skin tone. Ditch the nudes and pinks and mauves, holiday season is the celebration of a red pout.
#9 Balance the Glam
The current fashion scene is all about balancing the look; if one of your clothing pieces are loud and screaming you have to add another piece to counter its vividness. Have you seen men's inspired jackets and shoes all of a sudden ruling the streets? That's a very chic way of balancing a feminine romantic overdose! If you have decided on donning a metallic wrap dress with a plunging neckline, balance the look with black sneakers and some casual pieces of jewelry. The extra part you can do with your coordinating red pout.
Source: Forcoolfashion.com