"ISLAND OF TERROR" - The fully restored movie using our proprietary RINNUVA process. The full length feature films are available in Rinnuva or Stiliza versions
ISLAND OF TERROR
RINNUVA VERSION
Edward Mann and Al Ramsen
Based on an original story by Mann and Ramsen
Edward Judd
Peter Cushing
Carole Gray
Eddie Byrne
Island of Terror is a 1966 movie taking place on an isolated remote island off the cost of Ireland where its community is threatened by tentacled silicates which liquefy human bones.
Plot
On the remote Petrie's Island off the east coast of Ireland a farmer, Ian Bellows, goes missing and his wife contacts the local constabulary. Constable John Harris finds Bellows dead in a cave without a single bone in his body and fetches the island's physician, Dr Reginald Landers, but Landers is unable to determine what happened. He journeys to the mainland to seek the help of a noted London pathologist, Dr Brian Stanley. Stanley too is unable even to hypothesise what could have happened, so both men seek out Dr David West, an expert on bones and bone diseases. Although Stanley and Landers interrupt West's quiet evening at home with the wealthy jetsetter Toni Merrill, West is intrigued by the problem and so agrees to accompany the two doctors back to Petrie's Island to examine the corpse. In order for them to reach the island that much faster, Merrill offers the use of her father's private helicopter in exchange for the three men allowing her to come along on the adventure.
Once back at Petrie's Island, Merrill's father's helicopter is forced to return to the mainland so he can use it, leaving the foursome effectively stranded on Petrie until the helicopter can return. West and Stanley learn that a group of oncology researchers led by Dr Lawrence Phillips, seeking a cure for cancer, have a secluded castle laboratory on the island. Paying a visit to Phillips' lab reveals that he and his colleagues are just as dead (and boneless) as Ian Bellows. Reasoning that whatever it is must have begun in that lab, West, Stanley and Landers gather up Phillips' notes and take them to study them. From them they learn that in his quest to cure cancer, Phillips may have accidentally created a new lifeform from the silicon atom.
Thinking the doctors are at the castle, Constable Harris bikes up there looking for them to tell them about the discovery of a dead, boneless horse, only to wander into the laboratory's "test animals" room and be attacked and killed by an offscreen tentacled creature, the result of Dr Phillips's experiments. The creatures are eventually dubbed "silicates" by West and Stanley, and kill their victims by injecting a bone-dissolving enzyme into their bodies. The silicates are also incredibly difficult to kill, as Landers learns when he tries and fails to kill one at the castle with an axe when they first encounter them.
After learning all they can from the late Dr Phillips's notes, West and Stanley recruit the islanders, led by "boss" Roger Campbell and store owner Peter Argyle, to attack the silicates with anything they've got. Bullets, petrol bombs, and dynamite all fail to even harm the silicates. But when one is found dead, apparently having ingested a rare isotope called Strontium-90 from Phillips' lab (via Phillips' accidentally irradiated Great Dane), West and Stanley realise they must find more of the isotope at the castle and figure out how to contaminate the remaining silicates with it before it is too late. They obtain enough isotope to contaminate a herd of cattle – at the cost of Stanley's left hand, when he's grabbed by a silicate – and the silicates feed on these and begin to die.
The story ends with evacuation and medical teams inbound from the mainland, and West commenting on how fortunate they were that this outbreak was confined to an island. Had it happened on the mainland, he notes, they might never have stopped them in time. This sets up an epilogue and a visit to the satellite programme, in Japan, where the technicians are duplicating Phillips' work with the inevitable result. A technician walks down a corridor, hears a strange noise and investigates before screaming.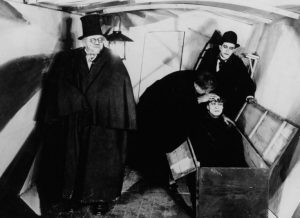 As Francis (Friedrich Fehér) sits on a bench with an older man who complains that spirits have driven him away from his family and home, a dazed woman named Jane (Lil Dagover) passes them. Francis explains she is his "fiancée" and that they have suffered a great ordeal. Most of the rest of the film is a flashback of Francis's story, which takes place in Holstenwall, a shadowy village of twisted buildings and spiraling streets. Francis and his friend Alan (Hans Heinz v. Twardowski), who are good-naturedly competing for Jane's affections, plan to visit the town fair. Meanwhile, a mysterious man named Dr. Caligari (Werner Krauss) seeks a permit from the rude town clerk to present a spectacle at the fair, which features a somnambulist named Cesare (Conrad Veidt). The clerk mocks and berates Caligari, but ultimately approves the permit. That night, the clerk is found stabbed to death in his bed.
Watch Now ➜
Battleship Potemkin is a 1925 Soviet silent film directed by Sergei Eisenstein and produced by Mosfilm. It presents a dramatized version of the mutiny that occurred in 1905 when the crew of the Russian battleship Potemkin rebelled against its officers.Battleship Potemkin was named the greatest film of all time at the Brussels World's Fair in 1958. In 2012, the British Film Institute named it the eleventh-greatest film of all time.
Watch Now ➜
After hearing the story of Moses, the sons of a devout Christian mother go their own ways, while the atheist brother's breaking of the Ten Commandments leads to tragedy.
Watch Now ➜