Season 1: Episodes 1 and 2
Stephen King and George A. Romero are responsible for bringing the world horrific tales of terror and suspense as well as spawning genres all on their own. When the two came together to create the anthology horror movie Creepshow in 1982, it was no surprise that it instantly became a cult classic. There had been horror anthology films before such as Trilogy of Terror in 1975, but none had the kind of impact on anthology horror like Creepshow did. I am sure that much of that respect came from the two legendary names attached to it, however the stories are what launched the film into success.
With the success of the first instalment, it was no surprise when a second Creepshow film was released in 1987 and a third in 2006. The horror franchise was a hit so when Shudder announced a series based on the franchise, it came as no surprise to fans all around the world. Shudder, a horror specific premium channel released the first season in 2019. The season consisted of 6 episodes with each episode containing 2 separate short horror stories. Here is a breakdown of each episode in season 1
Episode 1: Grey Matter/The House of the Head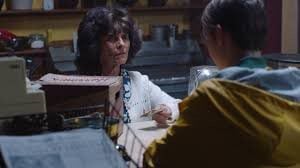 Grey Matter
Grey Matter begins with a group of people from a small town gathered together inside a local store waiting out a hurricane. A young boy played by Christopher Nathan comes into the store to get a case of beer for his father who he says is really sick. The boy (Timmy) admits that he really doesn't want to go back home and see his father. Timmy starts telling the story about how after his mother died, his father started to really get lost in his drinking. It got so bad that he ended up getting sick after drinking a "bad beer." Some friends in the store volunteer to go check in on the dad, and when they get there, they find that the father is more than just sick but has become a monster.
Review: The story plays out well on screen and in true short story fashion has some twists along the way. It is a fun story that puts a fresh spin on the "alcoholic dad" premise. The short was written by Stephen King and directed by Greg Nicotero so it is no surprise that it is fun and suspenseful.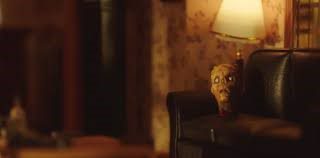 The House of the Head
When a young girl full of wonder gets a new dollhouse, home to a family of dolls she calls the Smithsmiths, something is out of place. The girl, Evie (Cailey Fleming), opens the doll house one day to talk to the Smithsmiths only to discover they have all been moved into new positions. While investigating this situation, Evie also discovers a new addition to the doll house. She finds a hideous decapitated head that she soon learns has supernatural powers. In an attempt to save the Smithsmiths Evie begins buying more dolls.
Review: This was a fantastic story that was fun to watch. Cailey Fleming does a great job of playing the role of Evie and the imaginative story that writer and director Josh Malerman provides for this short is both compelling and suspenseful. It was exciting to watch the story play out with Evie trying to bring in new dolls to the house to try and save her new little family.
Episode 2: Bad Wolf Down/ The Finger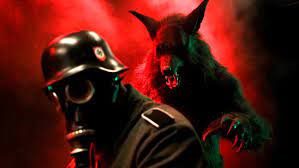 Bad Wolf Down
Not your typical werewolf story, Bad Wolf Down takes place during World War 2 in a French forest. A platoon of American troops gets pinned down inside of a local police station fearing for what is outside, when what they should be scared of is inside with them. A young woman who is locked inside one of the cells is accidently shot, but to the soldier's surprise, she wants to die. When the Nazi enemy surrounds the Americans, they let the French prisoner share her curse with them if they let her die. Now, turning into a platoon of werewolves, the Americans can make their escape.
Review: Written and directed by Rob Schrab, this unique spin on a werewolf story has all the ingredients of a great story however it falls a little short of hitting the mark. It is difficult to allow a tale as deep as that of a werewolf in half of an episode. If this was told over an entire episode it would have had the ability to breathe a bit more and hooked its claws (so to speak) into the audience a bit more. Overall, it is a fun story that has all the key elements one desires when watching a werewolf on the screen, and the effects are classic and what you would want to see in this type of show.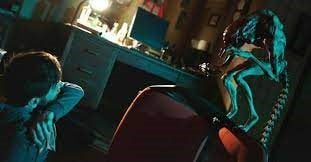 The Finger
When Clark Wilson (DJ Qualls), a bitter and jaded divorcee, is searching his town for lost and abandoned things, he comes across what seems to be a severed finger. Being the weird, lonely guy he is, Clark brings the finger back to his place to do some research and see if he has discovered a new creature. While he is researching the finger, he spills his beer on it and to his amazement, the finger seems to absorb the liquid. Clark then places it in his fridge for safe keeping however later, when he goes to check on it, the finger is gone. He finds it on the floor and is surprised to see that it has grown into more than just one finger. Over time, it continues to grow until a strange little creature is birthed that Clark names Bob. Bob seems to love Clark and will do anything to show his appreciation, even commit murder.
Review: Anytime I see DJ Qualls on the screen I am instantly invested. I think he is a great actor that fails to get the recognition he deserves. His character in the show Supernatural alone proves how great of an actor he is. This is a really fun story that was written by David J. Schow who is known for his work on The Crow, Texas Chainsaw Massacre III, and the Critters films.
Written exclusively for TheLastPicture.Show by Jacob Ruble
Disclosure: The links on this page are "Affiliate Links" and while these are shown at no costs to our viewers, they generate commissions for our website(s)