Christmas is one of those times of years where many people get to show off their decorative talents for just a few weeks. In some neighborhoods it has become a competition and in other places the lights come out as early as possible and can be seen glowing far into January of the next year. Most of these decorations are your standard lights, blow up yard decorations, roof top Santa accompanied by his reindeer and of course your manger scenes. Sometimes you may see someone step out of the box a little and put Santa on a Harley-Davidson or add some Charlie Brown flare to the yard decorations but there are some Christmas decorations that are so far out there, we decided to make a list of the craziest ones we could find.
10-foot Frosty the Snowman projector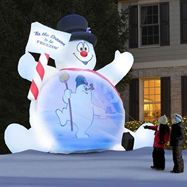 Sure, everyone no-a-days are putting inflatable decorations in their yards, but who has a 10-foot Frosty the Snowman? Not many I am sure and even if they do have one, I wonder if it would play different scenes from the 1969 classic! Available at hammacher.com, this amazing decoration doesn't need a magic hat to come to life, just plug it in and watch the fun begin. Might want to keep any rabbits away from it however, I mean, it is very durable, but a rabbit may be able to chew right through this thing. Just a suggestion.
Christmas Vacation Inflatable "Family Truckster"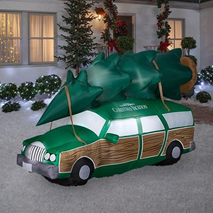 From one classic to another, National Lampoons Christmas Vacation is a movie that deserves an 8-foot inflatable lawn decoration. This family truckster comes complete with everything you need minus the Jelly of the Month Club and chainsaw! Just think about the neighbors getting out of their car and seeing you put this beautiful decoration up. Where are you going to put a decoration that big?
5-foot Tall Stocking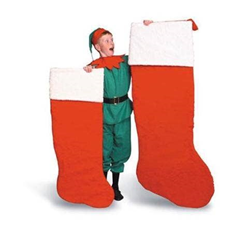 When you have been extra bad and Santa is bringing in a dump truck load of coal, you'll need an extra-large stocking to hold it all. That's where Walmart has you covered! This 5-foot-tall stocking can be yours for only $24.62 on the Walmart website! The great news is, it can also double as a sleeping bag if you lock yourself in the attic by accident while the family is out doing some shopping!
4-Foot-High Major Award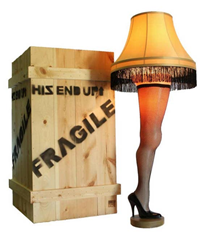 It is time you are the envy of the neighborhood with this major award! Place this beautiful peace of art in your window for all to see for the low price of $199.99 on redriderleglamps.com. Think of how many dads across the country have always wanted a major award like this one! You could be the talk of the town, I know the Bumpuses dogs would be howling with jealousy. Hopefully you will not shoot your eye out before getting a good look at this lamp!
6.5 Ft Animatronic Krampus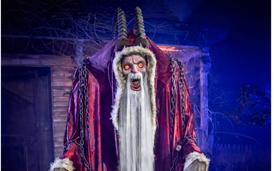 Nothing screams Christmas like this 6.5 Ft half-goat, half-demon with glowing eyes, howling sounds and movement from side to side just waiting to snatch up any bad little kids and throw them in his bag. Why would you go the traditional route with old saint nick, when you can crank things up a few notches with old Krampus here. There will not be a single car that drives by that does not notice what you have in your front yard, I guarantee it! It's not Christmas until the fat man screams.
Sh*ters Full Santa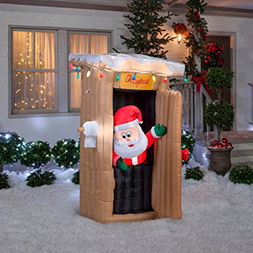 When you have to go, you have to go. Think about all of the millions of houses that saint nick goes to every Christmas, has a single one of them left the bathroom open and ready for Santa to possibly leave his coal? I think not! When nature calls Santa has to do what he can to relive himself and that is why this inflatable outhouse is a great buy. Don't do it for you, do it for Santa. Available on Walmart for $99, it's a small price to pay for one's comfort.
Hippie Santa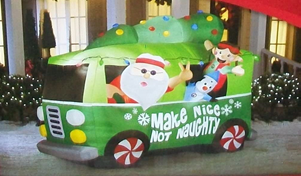 "Make Nice, Not Naughty" is this laid-back dude's motto. Who wouldn't want some Jerry Garcia Santa sneaking in your house at night leaving you little presents? For this Santa, you may want to leave a little something extra in with his cookies when he stops by if you know what I mean. Naughty or Nice, this Santa will abide.
So, there you have it folks, a list made up of some of the weirdest (but honestly best) Christmas decorations you can get today. Of course, we could not fit all of the crazy and absurd decorations on this list, you may have noticed we left off any dinosaur inflatables which seem to be a big hit now for some reason. In our research for these decorations, we came across some completely outlandish Christmas decorations however if you are just putting Santa on top of your roof and having some yellow Christmas lights shower down from him in an inappropriate manner, that doesn't count. We hope everyone has a happy and safe Christmas this year, thanks for stopping by and don't forget your Jelly of the Month club certificate on the way out, it's the gift that keeps on giving.
Written exclusively for our company by Jacob Ruble
Source – CoolMambo.com