On the market today we have a large variety of camera drones for sale, it's important to know what kind of drone fits you best in your predetermined operation before thinking of purchasing one. Many manufacturers are building drones with interesting ideas. Therefore, you have to research to know your best option. We have reviewed the best drones in 2017 and listed features and important details to guide to you as a professional. Here's the list in no particular order:

DJI Phantom 4
Overview
DJI Phantom 4 is one of the amazing camera drones for both for amateurs and professionals ever created by DJI, a major Drone innovator company. The Phantom 4 offers a very sharp 1080 camera with a maximum of 120fps, a mostly incorporated gimbal with side cameras, speedy discharge propellers and the new ultra-lightweight magnesium compound body. The Phantom 4 genuinely supersedes DJI's heritage models, to leave the opposition standing.
Easy to switch flight modes that meet your needs regardless of whether you're searching for simplicity or smart navigation, speed or smooth cinematic shots is easy. This drone also offers 3.1mi (5km) of distance range, with complete control and a live 720p HD perspective of everything the camera see.
Product Features
Video Resolution: 4K at 30 FPS and 1080 at 120 fps
28 minutes flight time/Battery life
Speed of 45 mph in Sport mode
Camera resolution of 12 MP Adobe DNG RAW
Obstacle avoidance
Pros
Obstacle Avoidance
Slow Motion Video Recording
Follow me and Return to Home Functions
Cons
Expensive Accessories
Large and bulky Design(not ultra-portable)

DJI Mavick Pro
Overview
DJI Mavick Pro is the smallest quadcopter camera and best known for aerial photography and filmmaking. Its portability is remarkable because it can be folded to a small size which makes it easy to move around with it.
The Mavick Pro has a design that offers a broad range of benefits; it's portable and easy to move around with, 27 minutes flight time, a maximum speed of 40 mph, a 12 mp camera mounted on a 3-axis gimbal, long range remote control integrated with your iOs and Android tablets and smartphones. It's a powerful device for both beginners and professionals.
Product Features
40 mph maximum speed
Obstacle detection
Automated take-off and landing
Vision positioning system, GLONASS, and GPS
12 mp still capture and 4K video
Portable
Pros
Easily controllable Indoor and Outdoor
Ultra Portability (Easily fits in a Pocket)
About 27 Minutes of Battery Life
OcuSync Transmission System
Cons
Records in both (Portrait and Landscape Modes)
Must require a SmartPhone to Control
Unstable in Strong Winds

DJI Inspire 1
Overview
DJI Inspire 1 may be bigger in size but also has an excellent 360 degrees camera rotation giving you a wide-range view from above the ground. Easy to dismantle the camera system and 3-axis gimbal for upgrades and easy transportation. It's a device you can use a for a long time since its camera system is upgradable.
DJI Inspire 1 offers 4K high-quality video recordings that are brimming with details, colors, and sharpness. When compared to DJI Phantom 4, this one has a different design and more aggressive. This drone has an option for two controllers at once, without a doubt Inspire 1 is one of the best drones in the drone market.
Product Features
12 mp camera resolution/4K video at 30 fps
Maximum speed: 49 mph
flight time: 18 minutes
Dual operator mode
Multiple zenmuse expandable camera systems
Pros
Removable Camera
Lacks Advanced Functions(follow me and flight intelligent)
Awesome Built Quality
4k video recording
Cons
Very Expensive
Extra Batteries are too Expensive
Android App is not that great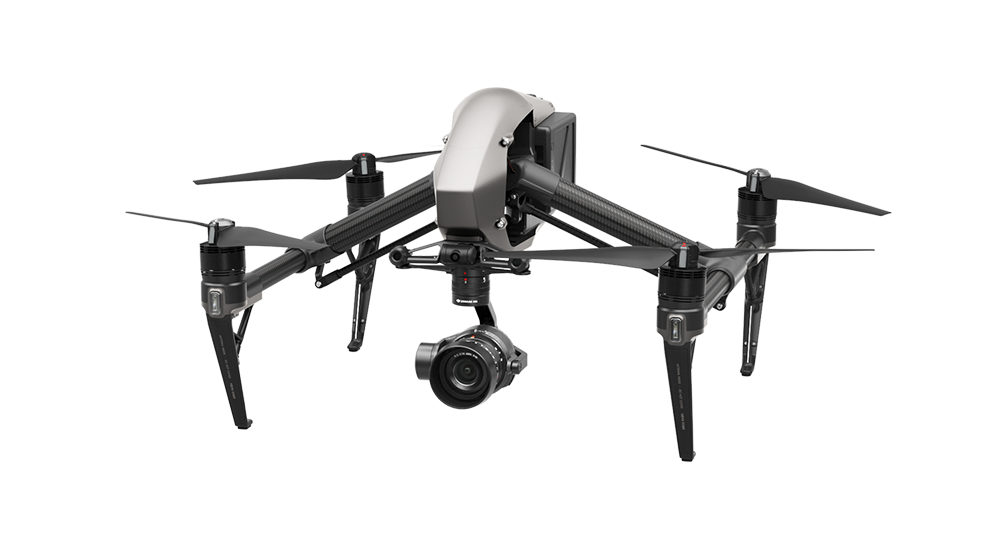 DJI Inspire 2
Overview
If you are looking for a drone camera with an excellent ergonomics DJI Inspire 2 is the device you should go for. DJI manufacturer is remarkably advancing their technology making them ahead of the curve compared to their competitors.
Inspire 2 is a flying monster with an incredible ergonomics, flying power, and cinema-worthy quality. With a Zenmuse X5S and X5R camera which offers Pro Resolution of 4K and 5.2K, improved flying stability for smoother shots and 360 degrees camera for a wide view range.
Product Features
Maximum speed: 67 mph
Maximum flight: 27 minutes
4K at 60 fps/5.2K at 30 fps video resolution
12 mp camera resolution
Apple ProRes Codec integration is very handy
Pros
Offers PCle SSD storage with 67 mph speed range
effective obstacle avoidance and detection system
dual operator control using FPV pilot camera
intelligent flight modes
Cons
Micro Four Thirds camera unit is highly expensive
not designed to serve the purpose of hobbyist users
As it creates recordings with 5.2 K determination level, users require a superior CPU for their post processing.

Yuneec Typhoon H
Overview
DJI may be the leading drone manufacturer, but Yuneec couldn't be left out either. With their latest product, Typhoon H is an excellent aerial photography and videography platform and one of the best hexacopter drones in the market at the moment — and it's affordable too.
Typhoon H offers a flight time of 25 minutes Ultra HD filming and still image capture, Android-powered ST16 Ground Station which features 7inch touchscreen for displaying live footage from the drone in 720HD resolution and enables a broad range of unmonitored flight mode.
Product Features
12 mp camera resolution
4K at 30 fps video resolution
Maximum flight: 25 minutes
Maximum speed: 43 mph
360 degrees camera
Pros
Unique 6-rotor design is more reliable, safer
Automatic Collision Avoidance
2- operator option
Ready To Fly & fully integrated
Excellent configurable ST-16 controller
Cons
Long startup time
Batteries take 2 hours to recharge

GoPro Karma
Overview
GoPro has managed to dominate the current camera market and keeping in mind that there have been a lot of competitors, nothing has figured out how to approach the stunning cameras by GoPro.
GoPro Karma is extremely portable; its wings can easily fold into the drone itself. It supports different types of GoPro cameras if you wish to upgrade, the drone also comes with an app called GoPro Passenger which helps you control the drone.
Product Features
Maximum speed: 35 mph
Maximum Distance: 3,000 m
Availability of wide range of camera from 720HD upwards
Pros
Portable
Built-in Display on the Controller
It comes with a Handheld Stabilizer
Cons
Lacks Obstacles Avoidance option
Poor Battery Life
Missing Downward Positioning Sensor

Yuneec Q500 4K
Overview
Yuneec is one promising drone manufacturer they offered yet another fantastic piece. Yuneec Q500 4K considered a direct completion to DJI, you may be fooled Yuneec to be a new company trying to venture into the drone market, but actually, they have been around since 1999.
Yuneec Q500 4K has an ability to offer a smooth and stable 4K video recording, 12 megapixels for capturing still images with the distortion-free lens, user-friendly when it comes to controlling, actually its controller comes with a screen feature that streams live footage from the drone.
Product Features
Video resolution: 4K at 30 FPS and 1080p at 120FPS
12 mp camera resolution
GPS signal controller
Maximum Flight time: 25 minutes
Max speed: 22 mph
Lightweight Aluminium casing package
Pros
Strong and durable
Easy to control
4K Video recording
Cons
Longer battery charging time
Huge Controller
Blurry videos from the edges
Lacks waypoint navigation

DJI Phantom 3 Professional
Overview
DJI Phantom 3 is the most sophisticated drone in the Phantom Series, besides being designed for professional pilots, it's also user-friendly for both professional and hobbyists. This Quadcopter drone has a flashier design compared to the other drones in this series.
DJI Phantom 3 offers 4K video recording, 5km distance,23 minutes flight time and five different advanced flight modes including:
WayPoint navigation
Follow me
Point of interest
Coarse lock
Home lock
Product Features
Video resolution: 4K at 30 fps
12 mp camera resolution
Maximum flight time: 23 minutes
Maximum speed: 36 mph
Pros
Live view feed
4K video recording
Automated flight mode
Incredibly easy to control and stable in the air
Cons
Very expensive
Poor battery life
Very expensive
Poor battery life
Source: Digitalphotoshack.com