Say what you will about 2020, but for some of us it forced us to stay inside and catch up on a lot of the television shows we have been wanting to watch. While the world seemed to burn down around us, we were able to sink into our most comfortable couch cushion and watch scenes play out in front of us in our favorite shows. One thing I tried to do with my forced time inside, was try out some new shows I did not know much about previously. Here is a list of my favorite shows in 2020, in no particular order.
*Disclaimer: Some of these shows were not released in 2020 BUT a new season was released, and it was my first time seeing the show, along with a lot of other people due to the state of the world. Because of this, I decided to include these shows on this list.
The Good Lord Bird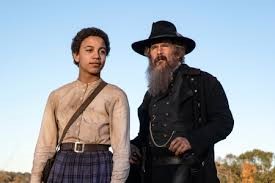 When things started to get back to a somewhat normal feel and I was able to start working again as a stand-up comedian, I was doing a show just north of Indianapolis Indiana when I came across this showtime show. Most of a stand-up comedian's day is spent either walking around town looking at a new town or hanging out in a hotel room flipping through the channels. Seeing how things were still a bit too apocalyptic for my tastes outside, I chose the latter. While flipping through the channels I stumbled across one of my favorite actors on screen, Ethan Hawke. I cannot just keep flipping once I see Ethan Hawke on screen, so I stopped, and I am glad I did! The show is based on a book of the same name written by James McBride. It tells the story of a whacked-out preacher who lets his hatred of slavery guide his every step. Well, the story is really told following the trail of Onion, a slave who Reverend Brown (Hawke) freed along with his gang. Onion, thought to be a girl who is actually a boy who now has to dress like a girl to stay safe, stays with Brown and his gang and the story unfolds to the events that started the civil war. This is a 7-episode mini-series that I had a great time watching all thru way through once I returned home from my show.
Lovecraft Country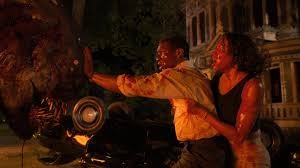 HBO MAX has done a fantastic job of justifying my monthly payment to them. There has been a lot of great movies and series on the streaming service such as OZ, The Wire, The Sopranos and every DC movie worth watching (and some worth passing). When HBO started putting out its very own MAX exclusive content, I had a feeling that it would not let me down, in recent years Westworld and Game of Thrones had fans around the world glued to the box as an example. I came across a trailer for Lovecraft Country and decided not to watch the trailer. Not because I didn't want to see the show, but because I DID want to see it and wanted the entire thing to be a surprise to me. I love HP Lovecraft lore (even though I don't care for Lovecraft himself and the ideas he had about the world and people in it) and my wife is not really that familiar with it, so this was going to be fun for both of us, I hoped. I was not let down! The series started a little slow for me to be honest but once it picked up, I was hooked. Taking us back to a time thankfully gone by (all though recent events makes us wonder) when it was not safe for just ANYONE to live their best life. The story is based on the novel of the same name written by Matt Ruff and some of the names attached to the show gives us a pretty good idea as to why it was successful, J.J Abrams, Jordan Peele and Misha Green to be exact. The story is centered around Atticus "Tic" Turner, a black man in the mid-20th century who is just returning from war. Atticus takes on a mission with his uncle and childhood friend to find his father but what he finds in return is adventure, adversity and chaos. Setting the main character in a Lovecraft style story as a black man in the mid-20th century was a terrific way to stay clear of the racist stereotypes that Lovecraft himself carried. With the current events going on in the United States, it was eye opening to watch what things were like for a person of color in the mid-20th century and causes one to look at what is going on around us through a different set of lenses. The show had a great first season with terrific acting and a compelling story, one that causes me to be excited to watch things unfold as we move forward with the series.
The Boys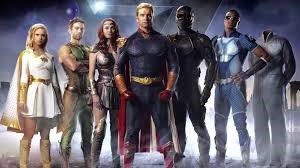 Our first entry of a show that technically didn't come out in 2020, but I found it in 2020. The Boys was released on Amazon Prime in July of 2019, but like much of the world back then I was out living my life and not able to fall into a new series of television. Once the pandemic happened, I had all the time in the world and decided it was a great opportunity for me to check out this show everyone was talking about. I binge watched the entire season in basically one sitting (bathroom breaks and snack runs not included). Ran by the same man behind the show Supernatural, Eric Kripke, The Boys gives us a new look and spin on what it would be to have real superheroes in our world. A gritty and frankly more believable tale than any other hero story, The Boys is packed full of action, suspense and comedy. I loved this show and am excited to see that it still has some years ahead of it.
Raised by Wolves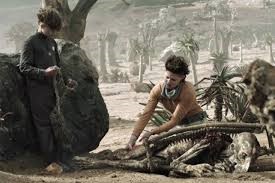 The last entry before we get into our honorable mentions, is Ridley Scotts HBO MAX show, Raised by Wolves. It is not surprising that Ridley Scott would return to a show centered around artificial intelligence and all the nuances that go along with the subject. Any lover of the Alien franchise or Blade Runner will of course see Scott's fingerprints all over this new series. I will say that the season started off a bit slow for my liking but once I powered through and the plot really thickened up with some back story and a few action scenes, I was hooked. After the third episode, Scott handed the reigns over to his son in such a seamless transition that one would have to research to even notice. The story is about two androids who are tasked with starting a new generation of humans on a new planet after earth is pretty much wiped out from a war between atheists and a religious group. Things seem to be going okay until a ship full of the religious zealots show up and decide to lay claim to the same planet (which it turns out was everyone's plan all along). The series has a ton of emotion and turns that make this a wonderful escape into a new science fiction universe.
A few honorable mentions for shows that had fantastic new seasons in 2020, Cobra Kai, The Mandalorian, Ratched, Star Trek Picard, Star Trek: Discovery, Curb Your Enthusiasm, Ozark, What We Do in the Shadows and Better Call Saul.
Written exclusively for our company by Jacob Ruble
Source – CoolMambo.com