Some holidays are nearly custom made for children, and Halloween is definitely a day of that variety. From school Halloween parties to haunted houses and on to the main-event act of trick-or-treating, kids can dive head-first into a seasonal spooky-yet-fun time—with side dishes of hayrides, pumpkin carvings, and ghost stories.
One great way for kids to embrace that holiday feel throughout the month is to have a collection of Halloween movies that you can pull off your shelf from night to night to watch with them, with popcorn and pumpkin-flavored foods as snacks. This way, your family can enjoy a night in while embracing the season's theme in stories that are child-friendly and entertaining. Given how many movies there are for the season though, wading through to find the perfect options for your children can be a hectic process. To give you a bit of help on the matter, here are 10 movies for your kids that you should have on your shelf by Halloween!
Hotel Transylvania (2012)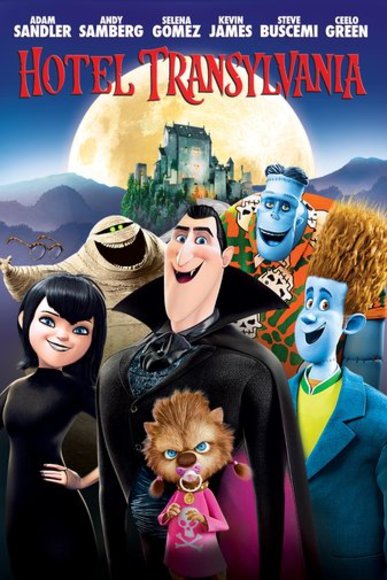 One of the finer movies in the last ten years that caters to this Halloween theme is this Adam Sandler flick that tells the story of a monster falling in love with a human after said human discovers the resort of said monster. While it's a simple idea, this movie and its sequel carry enough comedic value to make them welcome aspects to any DVD collection—especially a Halloween one! Seeing these monsters and this human interact make the plot enjoyable, but hearing the twists that are given to human things like "Hush Little Baby" and watching the heartwarming interactions between Dracula and his daughter take this film to another dimension of entertaining. For sure, add this one to your set!
Hold That Ghost (1941)

A bit outdated, no doubt, but seeing Abbott and Costello try to make sense out of what is supposed to be a haunted house can be as entertaining today as it was back in the 1940's. While the audience eventually learns that there is no ghost in the house and that the villainy is more connected to mobsters, watching as Costello becomes absolutely hysterical with fear while Abbott somehow manages to keep a straight face is an experience to enjoy again and again with each Halloween that passes. For clean, family fun, this film can certainly be one of your go-to options.
Abbott and Costello Meet Frankenstein (1948)
Yes, they made the list again, but for good reason! This comedic horror film showcases three of the classic monsters (four, if you count Vincent Price's voice showing up in a later part of the movie), and they're all portrayed by the classic actors for the roles. Bela Lugosi is Dracula, Lon Chaney is the Wolfman, and Glenn Strange is Frankenstein. When you add that list of classic representations of classic monsters to the comedy of Abbott and Costello, you end up with a movie that's one of a kind and worth every second you might invest in watching it. No doubt, pick up a copy of this film for your children's Halloween celebrations!
Men in Black (1997)
Halloween isn't just about monsters. It's about fun and fear mixed together, and few movies in cinema history could excel at that combination as well as this film that deals with alien life and danger in a way that's so unique and comical that viewers of all ages can be drawn into the story—even your kids! If you like this movie, think about adding its sequels to your movie shelf as well, and you can marathon your way through them for a particularly chilly night that has you heading indoors.
Ernest Scared Stupid (1991)

While Jim Varney's Ernest character might not be thought of as the most sophisticated of comedy possibilities, there's still good humor to be found in some of his movies. If you find yourself doubting that concept, try this Halloween film where trolls are brought to life (Ernest's fault!), and Ernest has to find a way to save the town and its children from the disgusting creatures. Along the way, fun and a little spookiness are showcased through Ernest's antics and Eartha Kitt's character—the anger, hermit lady known as Old Lady Hackmore—to build a story that's memorable and entertaining. For a distinctive Halloween film, try this one on for size!
Coraline (2009)
Not every film that fits with Halloween has to be about trick-or-treating, and Coraline is a great example. Rather, this is a story about a young girl traveling to a different world where the inhabitants are not quite as fantastic as she might have believed when she first discovered them. This shouldn't have been a shock, to be honest, since their creepy button-eyes are unnerving enough to cause the movie's viewers some serious discomfort, but Coraline seems to be more trusting than a typical viewer! From those creepy button-eyes to the chilling aspect of smiling and pleasant evil, this movie is sure to build an uncomfortable level of tension right in your living room in a way that's still family-friendly.
Ichabod Crane and Mr. Toad (1949)
Specifically, the Disney cartoon version of "The Legend of Sleepy Hollow" is the piece of this film that's noted as a to-add for your Halloween movie collection. With Bing Crosby narrating and singing, you can watch as a particularly terrified and food-loving version of Ichabod Crane eats and trembles his way through the story until he has to come face-to-face (so to speak) with the Headless Horseman. The story is dealt with in a simplistic way where natural sounds build tension and jealous romance is the driving force for the plot, but regardless, the chase from the Headless Horseman is as exquisite as the catchy tune from the story, "You Can't Reason with a Headless Man," is memorable. It's a quick story as well, so you can work it into a tight schedule to bring a bit of Halloween into a hectic October day. Basically, this is a great option for your child's Halloween movies!
Ghouls Rule (2012)
The cast of Monster High delivers a unique account of Halloween's beginnings in this 2012 film where monsters and humans are having a bit of trouble getting along. There's been a set-up, as it happens, that builds mistrust between the species, and the ramifications lead to pranks, dangers, and division that can entertain young viewers throughout the film. A notable detail here is that children of famous monsters are being showcased rather than the monsters themselves, and the spin given to Halloween's origins stands out as remarkably fitting for the story and the characters involved. If your child is a fan of Monster High, this is a film that could boost their Halloween enjoyment throughout October.
Spaced Invaders (1990)
If you want a film that combines the earlier mentioned theme of alien invasions and blends it with a typical story of trick-or-treating and Halloween night, this could be your perfect Halloween movie. A series of aliens in this 1990 film get confused when they hear a replaying of Orson Welles's "War of the Worlds" radio broadcast and show up on earth for an invasion that isn't happening. Their mistakes and missteps are hardly limited to just the act of landing on a non-battlefield, and the story that develops from their misunderstandings is humorous in a way that you can revisit from year to year. Don't neglect to add this bit of outer space to your October movie collection ASAP!
Harry Potter and the Sorcerer's Stone (2001)
Here's a movie that needs little to no introduction! This is the beginning of the fantasy story of young Harry Potter and his experiences with witchcraft and Hogwarts. If you've never seen the movie, choosing to watch this first film in the series is a great way to introduce yourself to this story, or if you're already a fan of the series, this movie can be one part of a Harry Potter marathon for your Halloween holiday. Either way, there's no better time of the year to dive into Hogwarts than October, so make sure Harry's on your movie shelf this season!
With these movies in your Halloween arsenal, you can let your holiday celebrations extend to nights-in with your kids—all in fitting ways for the month of October. Don't miss these opportunities!
Source – GiftsAndSpecialOccasions.com