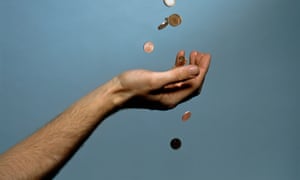 Digital advertising can be can be woefully ineffective and inefficient. Photograph: Cultura Creative/Alamy
Advertisers are being kept in the dark about who is getting a share of their digital spend. More transparency is needed.
When it comes to marketing technology, the events industry is the place to be. This year saw the launch of the new Lions Innovation Festival as a new element of the Cannes mega-congress, both Dmexco and ad:tech later this month promise to be bigger and better than ever before while the Guardian's own Changing Media Summitwhich celebrated its 10th anniversary this year continues to draw bigger crowds and higher profile speakers year on year.
It's not surprising given the unstoppable growth of the digital marketing sector and constant change and innovation around what technology is enabling marketers to do. This makes digital marketing an exciting arena to work in – but also a daunting one as marketers constantly strive to understand the complexities of an increasingly technology-led profession. Hence, marketers are investing time and money on attending conferences that open the window on the newest thinking and ideas that could give them the edge.
Not surprisingly, this thirst for knowledge is making marketers more questioning of their existing marketing partners as, when they are evaluating new ways of doing things, they inevitably want to compare them against the efficiency and effectiveness of their current marketing practices. Herein lies the ugly and inconvenient truth of digital advertising today: it can be woefully ineffective and inefficient.
As Mark Butterfield, at Boehringer Ingelheim commented recently in an influential report from the World Federation of Advertisers: "We have little or no clear understanding of what percentage (of digital spend) is being delivered to the media owner and what is being taken in fees from either the agency or middle men. There needs to be clarity in the value chain otherwise clients will continue to question the validity of the digital buy."
This reflects surveys by both ourselves at Ebiquity and a 2014 report from the World Federation of Advertisers which showed that of an advertiser's investment of $100, $40 reaches the publisher as a result of fees from agencies and up to ten middlemen – with the advertiser typically being kept totally in the dark about who is getting a share of this money and why. Add to this the fact that half of online advertising is not viewable (at a very low threshold of definition of viewability), plus the growing amount of non-human (bot) traffic and ineffective targeting, and you can see that ad spend may translate to only 15-20 cents in the dollar that is really working.
As advertisers become better-informed about the value their investment could and should create, they are becoming more confident in challenging their agency partners to be transparent about where their budget is going. They are more wary of the media agency holding company model, which has made agencies both buyers and sellers of media inventory, and the inevitable compromises this could bring to the way in which their money is spent.
For too long the power has been in the hands of the agencies, but advertisers are seizing back control.If they want to retain the savviest advertisers with the biggest budgets, agencies are going to have to show demonstrable results, measured and audited openly and accurately. Otherwise relevance, trust – and ultimately ad accounts – will be lost, especially as tech companies, marketing suite providers, management and independent consultancies are stepping firmly into the same space, while being better placed thantoday's agency groups to deliver impartiality. It seems that transparency is the new battlefield that could define the future of digital advertising and the power players within it.
Nick Manning is chief strategy officer at Ebiquity
Source – TheGuardian.com