Dubai is the city that has got it all and you actually have to visit it to believe it! From man-made island s to serene beaches to a majestic desert to skyscrapers and colossal shopping malls – Dubai is a city that has got something for everyone. A fascinating fusion of history and future Dubai has a vibe of its own. From its architecture to history to culture, here are ten things you cannot afford to miss when you are perusing around Dubai during your holidays:
#1 Burj Khalifa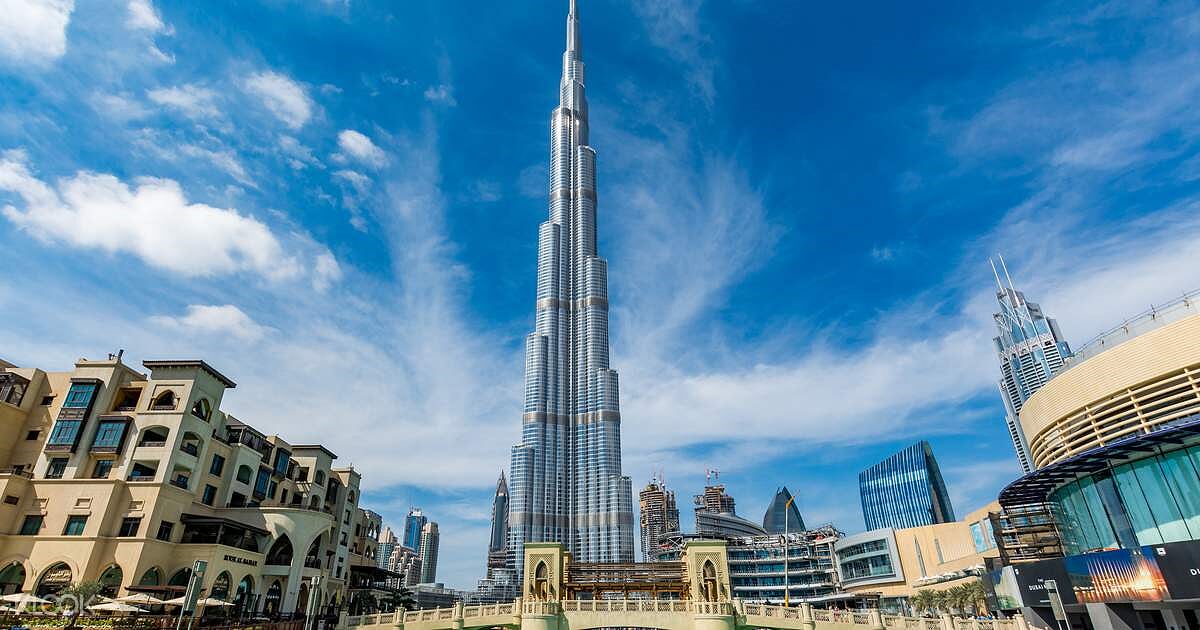 Some of the most iconic views of Dubai entails majestic man-made splendid skyscrapers among which the tallest tower of the world, the 828 meters high Burj Khalifa is kind of hard to miss. Even though you would be seeing Burj Khalida towers during your city bus tour, observing it up close and personal has an aura and charm of its own. A treat for everyone interested in contemporary postmodern architecture, Burj Khalifa is also a major tourist attraction for their Top Sky Lounge at 148 th floor where you can actually enjoy the most extravagant and luxurious meal of a lifetime.
#2 The Dubai Water Fountain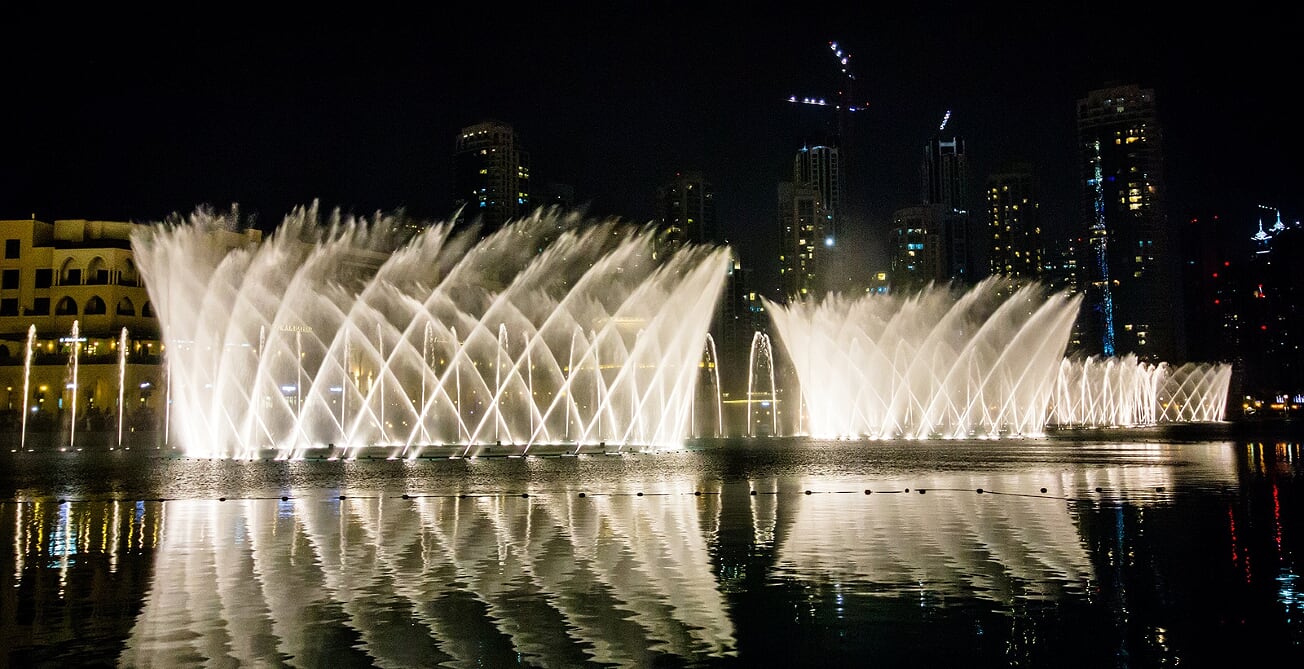 Sandwiched between the famous Mall of Dubai and the glorious Burj Khalifa towers, The Dubai Water Fountains present an awe-inspiring water dance show that's absolutely free to enjoy and displayed twice a day. One of the world's largest choreographed water fountain shows, the water streams of Dubai Fountain go as high as 150 meters amusing the audience with a splendid spectacle. We suggest cutting it off your list when you come to visit The Mall of Dubai, would save you the commuting time .
#3 Palm Jumeriah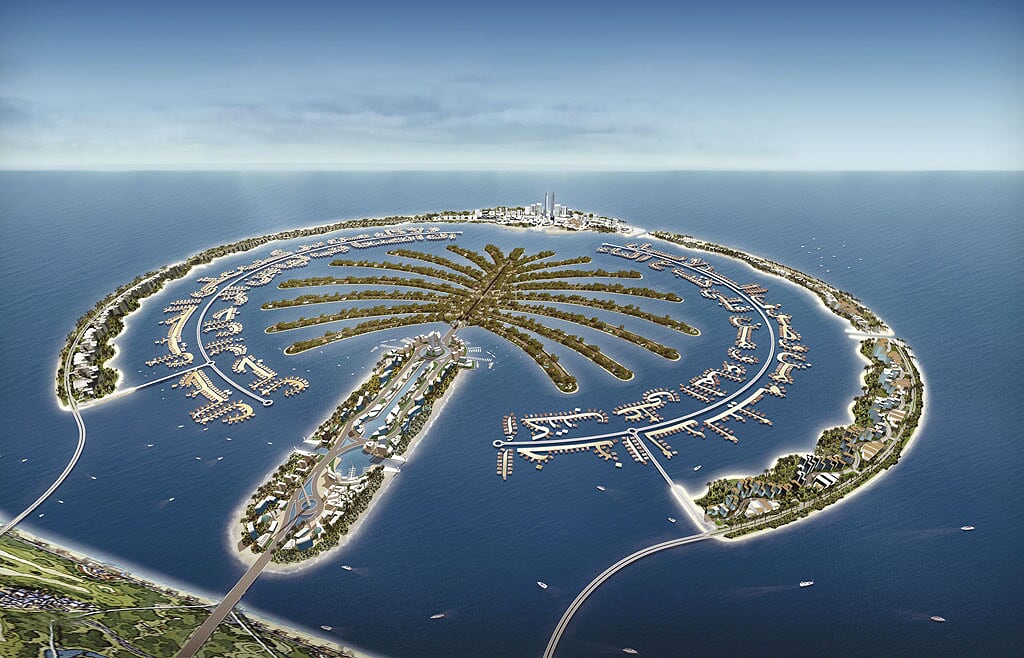 If there is one thing that Dubai does right, it's mesmerize its tourists with the power of man-made spectacles and sights. Only in Dubai would you find an artificially made island in the shape of a palm tree – the perfect homage to man's imagination and then determination to achieve what he wants. Located right in the heart of a desert, Palm Jumeriah has a myriad of luxury high-end hotels where you can lodge or visit for a day of luxury retreats. Most of Dubai's famous hotels including Atlantis are located here.
#4 Dubai Creek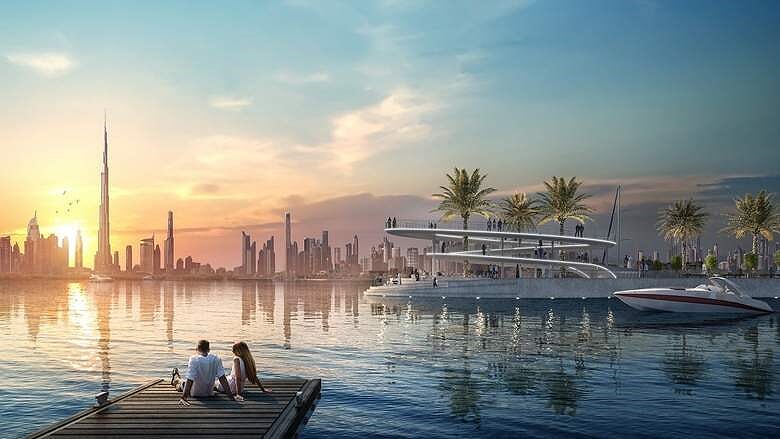 Before Dubai become this gigantic multicultural, multilingual and multiracial global megacity, it was a small city with the Creek being its only object of affection. The Creek was where the original dwellers of the city settled when they first arrived here; the waters were their only source of income. Fish and pearl trading is what brought them employment. Now, the city has transformed into this postmodern gigantic global hub with sky-high towers and contemporary architecture, but if you really want to get a taste of old Dubai, don't forget to spend an evening at The Dubai Creek. From Dubai Museum to traditional souks of spice, gold and textile, you would find city's history at every step of the region.
#5 Kite Beach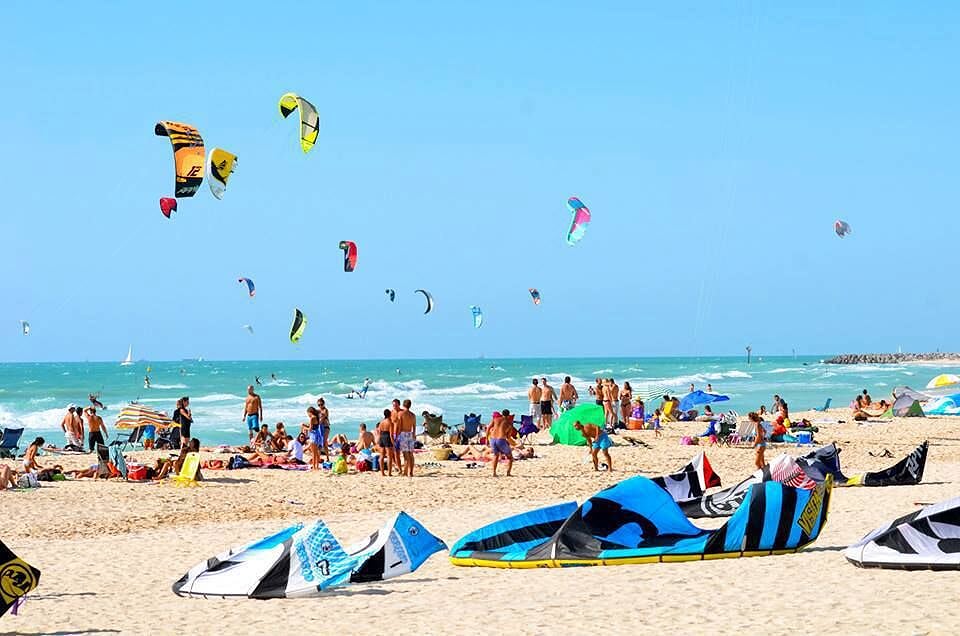 It's the quintessential neighborhood beach of Dubai where you can hit the waves while amusing yourself with some exciting and thrilling beach sports. The Kite Beach has all the elements to keep you entertained for an entire day. From water sports such as beach biking, skating, volleyball to open-air cafes for refreshing beach drinks to the magnificent sand to just lay and enjoy the salty breeze – there's a lot to do here and for very cheap.
#6 Dubai Marina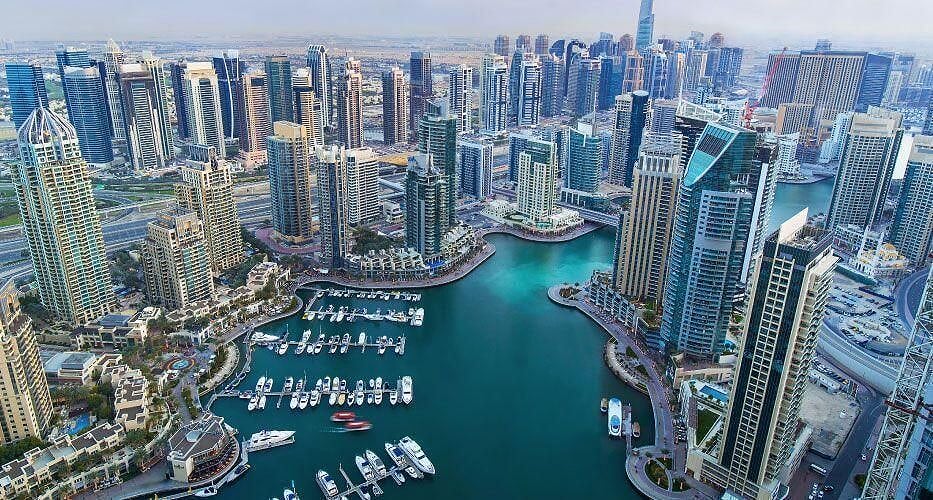 Contrary to the kite beach, Dubai Marina is very futuristic and quite ahead of its time. A walk in world's largest man-made marina is an experience you cannot afford to miss when you're in Emirates. The walk across the waters under the shadow of towering apartment buildings is truly bewitching, especially if you hit it at the time of sunset because the weather is usually pleasant that time. You also have the option to sail in the waters with the Dubai Marina Yacht Club.
#7 Global Village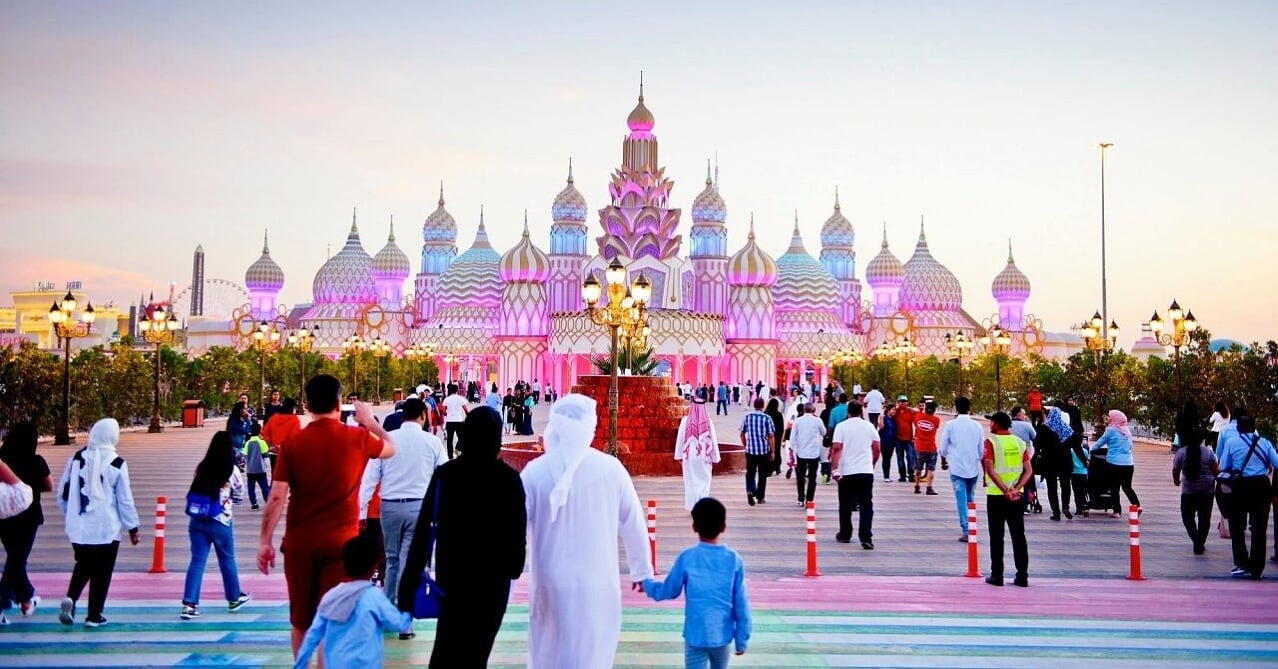 Well – Dubai is the global village of the world and the state government goes to all lengths and measure to keep this repute intact. The Global Village Dubai is world's largest themed entertainment spot that brings together culture, food, music, performing arts, shopping and leisure together. You get to see the cultural heritage of around 90 countries under one gigantic roof. You also have the option to shop the souvenirs for friends back home. Once you take the entrance ticket, the rest of the fun i s pretty much free including liv e music and dance performances .
#8 Dubai Safari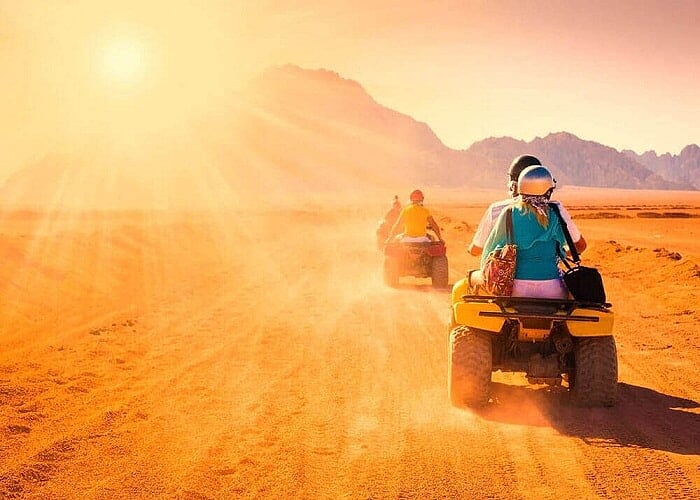 If you're visiting Emirates with kids or are a wild-life lover yourself, try not to miss out on witnessing this one of its kind man-made animal kingdom in Dubai. Al Warqa's Dubai Safari is a home to approximately 2500 animals. The entire establishment is divided in four parts: the Arabian, Asian, African and Safari Village. And you get to experience the wild life in its original authentic habitat settings. There are very rare chances for you to spot something like this anywhere else in the world .
#9 The Majestic Desert Experience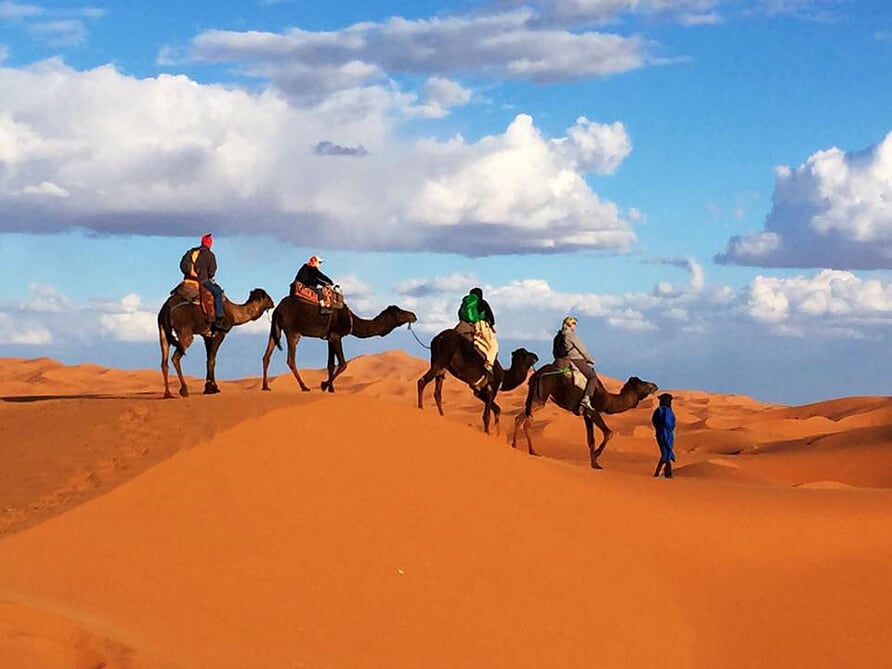 You simply cannot come to Dubai and not have an experience of the desert nightlife! This is something you would have never experienced before. Usually a nighttime bonfire is arranged in the midst of desert Safari. Large groups of tourists are brought to the venue of the festivities on jeeps. Here you get to witness true Arab culture with belly-dances, soul-searching music and food. The desert sand at night turns cold and pleasant, it's surreal experiencing festivities in the middle of nowhere.
#10 The Mall of Dubai
The legendary waterfall located in the middle of Mall of Dubai has actually became one of the significant urban signs and identity mark for Emirates. Dubai Mall is one of the oldest and biggest shopping centers in the city; you can spend an entire day here and there still would be shops left to explore. With over 150 shops and around 100 restaurants, this is a must-see places in the city.
Visit our website https://www.forglobaltravelers.com/