Classic Films & TV Shows Restored and Stylized
The Last Picture Show ™ is a cutting edge, debt free Art and Technology startup using both AI and Human Intelligence to transform old fashion movies and TV shows into modern colorful and completely restored fun to watch video content. With free access to well over 400 titles in the US and many more overseas we are in the process of offering the largest library of fully restored, colorized and stylized collection of film and video in the world. To learn more, we invite you to view the presentation below and contact us for a screening and the opportunities for licensing and/or investing in our company.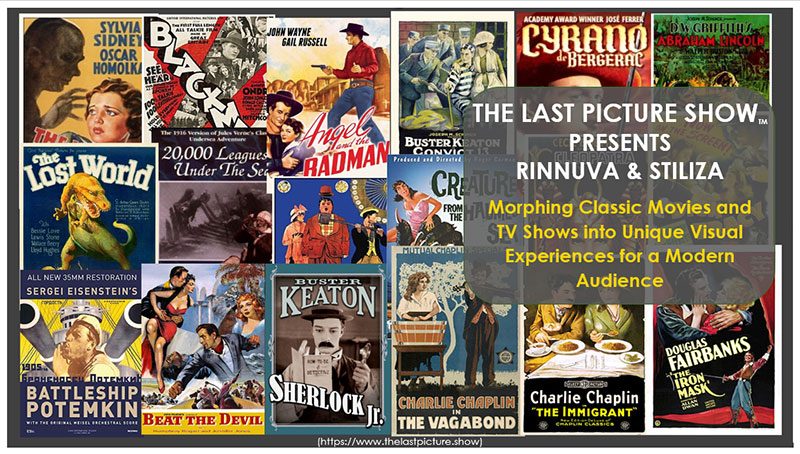 CLICK ON IMAGE TO START VIEWING
THE LAST PICTURE SHOW PITCH
Our plan is to restore, stylize and colorize (when appropriate) the 400+ movies and TV shows that we have pulled from the Public Domain.
To do this, we perfected several technologies and thorough processes to deliver unparallel quality in the restoration and stylization of films and TV Shows. These include two very advance AI based technology and processes that we call RINNUVA and STILIZA. RINNUVA is a unique process developed by The Last Picture Show using AI and PI (people intelligence) to "Rejuvenate" old films and enhance their soundtrack to return the spark these projects had when first released.  And we do this while respecting the original intent of each project's story. STILIZA is nothing short of a revolutionary approach to converting classic movies into a new experience for a modern society where we expect a great story delivered in a visual and audio "package" that is HD or even 4K. The STILIZA project is a process that takes classic movies and TV shows and convert these outdated films into a modern visual experience.  We use AI and PI to analyze these films, repair the images, enhance the colors and convert the movie into a comic like movie to appeal to a younger audience used to CGI and video games. SITILIZA includes over a dozen processes varying from reducing grain size of film, removing scratches, or enhancing luminance and overall image quality using our RINNUVA process, to colorizing and enhancing gamma and contrast as well as colors using our COLORIZA process.  Each project is then evaluated and stylize to render a comic book look and delivered in High Definition including 4K for viewing on large screen TVs or even theatres. To see the full STILIZA solution at work, check out the video sample by clicking on the link below.
(to know more click here)
For licensing information contact us at inquiries @ thelastpicture.show Our films and TV Shows are also available on DVD in HD and 4K